What to do in Karlovy Vary?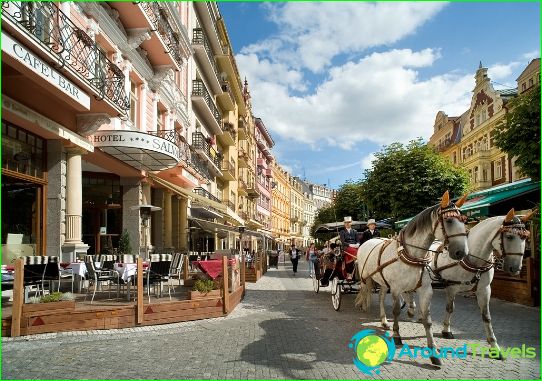 Glory Czech spa Karlovy Vary broughtfamous springs, the healing power which experienced itself Karl IV. In Karlovy Vary springs recuperate Bach, Beethoven, Goethe, Paganini, Gogol, and today - the tourists from all over the world.
What to do in Karlovy Vary?
View old Peter and Paul church, in which are stored the icon of St. Alexander Nevsky and St. Nicholas;
See the Hot Spring Colonnade;
Visit fortress Brechia;
A stay in Karlovy Vary Art Gallery and City Theatre;
View "Moser" in the museum, which houses more2000 exhibits, and an excursion to a glass factory, where you can stroll through its shops and see how made souvenirs and crystal ornaments;
Admire the Karlovy Vary and the surrounding area from the observation tower Diana (on the hill can be reached by cable car, and it is possible to overcome this way on foot along the 150 steps or elevator).
Things to do in Karlovy Vary?
Those who first arrived in Karlovy Vary, it is worth to make an excursion to places of interest: so climbing up the hill, you will see the ancient castle, and at the foot of the hill - House three Moors.
In Karlovy Vary you will be able toundergo a spa treatment (integrated treatment involves passing balneological and other special procedures, drinking cure, massage, diet), as well as the use velness- and beauty-programs. So, you can take advantage of wellness programs Lazne center with massage and beauty parlor, swimming pools with mineral water, a salt cave, gyms, swimming pools and a children's playground.
Arriving in Karlovy Vary, you should not neglectwalks on the colonnade, drinking healing water and rest in the resort forest parks (cyclists may ride there on a specially laid track). Holiday forests meet you houses, pergolas, small structures intended for recreation.
Take an active sports are available on thestadiums and sports fields, tennis courts and golf courses, and you can go to the racetrack to bet, or go to the hockey club "Energy".
In Karlovy Vary not be bored and fansnightlife. To their services - bars and nightclubs. Listen to live music and off for incendiary parties "Becher's" can be in a nightclub. And you can listen to jazz in the club "Imperial", where several times a week themed evening with a performance of contemporary jazz artists. Those who do not mind to have fun until the morning, will be happy to see the "Pyramida Music" at the club, which is famous for the bar, a large dance floor and entertaining programs.
Hotels in Karlovy Vary with childrenshould go to the Aquaforum water park - it will delight children playgrounds and interesting attractions. In addition, this waterpark offers visitors to take advantage of a variety of wellness treatments.
In addition to the treatment in Karlovy Vary, you can play golf, tennis, fishing, conquer the mountain tops of the surrounding mountains.
Photos you can go in Carlsbad