Where to eat in Carlsbad?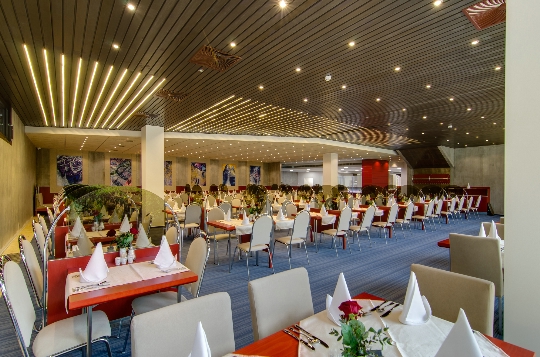 Thinking where to eat in Carlsbad? Problems with the power you will not experience here: you will find many restaurants in the old town, cheap bars - Masaryk in the streets and Warsaw. In traditional schools, you can try the dumplings, smoked pork knee, roasted duck with cabbage.
Where to eat in Carlsbad cheap?
In a quest to visit the restaurant "Aura" democratic food prices - here serves Russian cuisine (borsch with sour cream, dumplings).
Reasonable prices can be found in Egerlander Hof: local menus include dishes from meat, fish, game (worth a try baked duck with dumplings, "a devilish mixture" - spicy meat platter), as well as a variety of drinks (grog, beer, Becherovka and others). Cheaply you can eat in fast food restaurants such as McDonalds and other similar institutions (average score - 3.5-4.5 euros). Search should be at the Republic Square.
Where to eat in Carlsbad is tasty?
Chodovar: this restaurant offers a taste of Czech cuisine and fresh beer. Since the restaurant is located on the territory of the brewery, daily at 14:00 here is to come on the tour (duration - 45 minutes) and beer tasting.
Grand Restaurant Pupp: this luxurious restaurant with an elegant interior (amazing chandeliers, stucco ceilings, huge mirrors) offers dine on the basis of turkey, chicken, veal, beef, salmon, served here with original sauces.
"Colonnade": by this cafe in no way be held sweet tooth - then bake the most delicious waffles with vanilla, lemon, chocolate and other toppings.
Embassy: This restaurant offers dishes to be treated with Czech cuisine - spicy goulash, classic roast pork.
Charleston: this restaurant is perfect for fun parties, business meetings, family dinners. This institution serves English and Czech cuisine, preparing original recipes. In addition, here you can try a pilsner and a strong unfiltered beer.
Gastronomic tours of Karlovy Vary
Adherents of gastronomic tourism guidesoffer to walk to local institutions, which serves Czech cuisine. You will definitely visit the Le Marche - 6 days a week, guests here are treated to a dinner of 2 and 3-course dinner (menu is not repeated). And to culinary delights based on meat, fish, vegetables and serves wine, beer, champagne. As for desserts, in this place you can enjoy original dessert of fruit and chocolate with excellent coffee.
In Karlovy Vary you can come not only for treatment but also for the delicious national food.
Photo