Beaches Czech Republic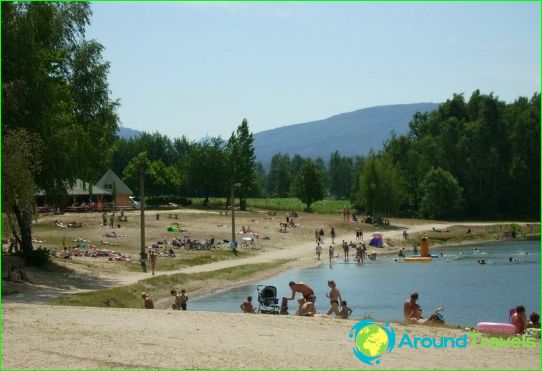 A visit to the Czech Republic in the summer and also impliesvisiting the beaches of the country. But in this beautiful country there is the sea, so the beaches are located in the Czech rivers and lakes. But even there you will be provided a sufficient level of comfort.
The best beaches are located in the Czech RepublicOrlik, on the Macha Lake in Slap. There's a lot of green plants. You can choose a vacation that is more suited to you: walk on a yacht or boat; fishing; windsurfing and much more. By the way, on Lake Lipno, which is also a sandy beach, you can go further and canoeing.
In Prague (Czech capital) also has beaches, butswimming is prohibited there because of water pollution, but you can sit and admire the beautiful views that open from the banks of the Vltava River. Here are the best beaches in Prague:
Zhlitye Lazne. The beach is very rich in greenery. You can ride on a catamaran, play volleyball and even rock climbing. Also, there is equipped with a special pool. In the evening you can enjoy contemporary music.
Prazhachka. This beach is more suitable for families with children. The wide beach line, the possibility of sunbathing, peace and quiet, without fuss.
Podoli. And the beach - a favorite vacation spot of the local population. Indoor swimming pool, two outdoor, high jumps. Is not that the dream of exhausted heat of people? For ardent fans of the sun and heat are a sauna and a solarium.
Divoka Sarka. The beach on the outskirts of the city, so it is very calm and quiet. Contrary to its name, it is not a wild and landscaped very contrary - playgrounds, tennis and many Czech specialties in the local cafes.
Hostivař. There are two sandy beaches and cozy lawn with loungers. You can windsurf, play tennis or have a tasty meal and enjoy the famous Czech beers.
Holiday in the Czech Republic could become one of the most memorable and wonderful in your life. It remains only to choose what kind of vacation you like better.
Photos Czech Republic beaches