Christmas in the Czech Republic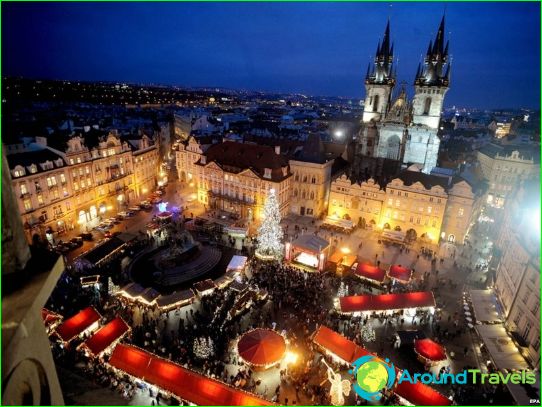 Do you like fried carp with potato salad? A walk through the old town, where every house carries a secret and it is ready to open only to the curious? Do you like living beer or flavored coffee you prefer? If at least a couple of questions you answered yes, Christmas in the Czech Republic - this is the right choice for a winter vacation.
Signs and Tips
Czech tradition to meet Christmasholidays formed over the centuries, and because they carefully observe and pass down through the generations. The main - jewelery anything that might catch your eye. Long before the start of the day a treasured event for the decoration of streets and squares, putting in order houses and apartments. Christmas trees are brought to cities and towns, and the shop windows organize the competition to attract buyers.
In the Czech Republic opened Christmas markets,where you can buy and souvenirs, and products, and gifts, and decorations. On the banks of the Vltava River in Prague, there is a market of carp. This fish - the main dish of the Christmas table, but on the banks of the river carp buy a completely different matter. This tradition Generous days there for many years. Carp are buying live Christmas Eve and release back into the river to bring the following year the wealth and abundance.
For the table for Christmas in the Czech Republic should take an eventhe number of guests. If that does not work, even the unit is still served. The hostess tries to have everything you need at your fingertips, not to get up from their seats, and the guests listened attentively, not tingle if they had ear. What for? Answers to these questions are the easiest way to find out, going to the Christmas in Prague or Karlovy Vary, for example.
Fourteenth source
By the way, Karlovy Vary - a wonderful placefor a meeting of the favorite holiday and winter holiday. This time of year is not very crowded, so no waiting for the thirteen famous mineral springs. Improve their health and to participate in the procedures for the preservation of youth and beauty can be in the local spas, and walk in the picturesque surroundings will give a lot of unforgettable experiences and memorable pictures in the photo album.
As a souvenir from Karlovy Vary can bebring the ancient herbal tincture "Becherovka", which locals call the fourteenth rightly a source of healing. Recipe for her many years kept secret.
A trip to the Christmas in the Czech Republic will be the most amazing holiday, which is so lacking in a series of gray everyday life. Especially because you can hold it and the benefit and pleasure.
Photos of Christmas in the Czech Republic