Holiday in the Czech Republic in August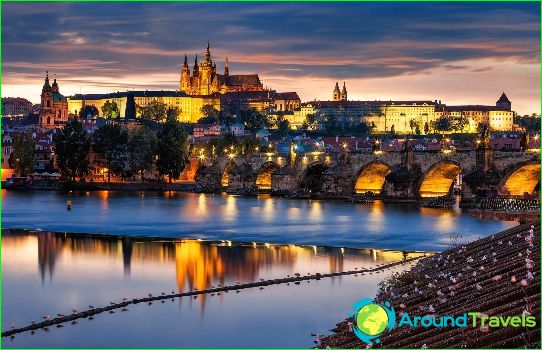 The last month of summer, continues to delight indigenousCzechs and visitors who come here on a business trip, on vacation or excursion. There is still a lot of sunny days, the rains cause only short-term visits, allowing tourists to visit a museum or go shopping.
By the way, travelers who choose holidays in the Czech Republicin August, fall at the beginning of summer sales. This is a very good way to get acquainted with the country, cultural attractions, time to update your summer wardrobe, and then his show defiliruya through the ancient streets and back alleys. Compare shopping with the Italian still impossible, but a lot of nice representatives of well-known brands can be a tourist in a suitcase and his wife.
Weather August
Summer is slowly losing ground, and that the temperature column indicates the increasingly stopping at around +18 ºC and occasionally pleasing comfort temperature +22 ºC.
In the evening, often crosses the boundaries of the cold wind,which makes the tourists to remember about warm sweaters and jackets. Well, the rains are not always of its companions, allowing the visitors to the city to fully enjoy the journey through the amazing Czech Republic.
The most brutal Festival
At a music festival, which is held inearly August in the fortress Josefov, gather musicians and fans, adoring metal rock. And if the first of these festivals were just local rockers, then hit today guests come to the toughest teams from around the world.
Festival surprising abundance of black, hardrhythms and brutal men, and the act eminent and budding rock musicians under the slogan "Against violence and intolerance." Each of the participants and guests will receive a complimentary strap attached to it a booklet with the program of the festival, rules of conduct, map. Special camping will allow arrived from afar to stay quite comfortable, and the most prudent that pre-booked a place to put a tent in the VIP-zone.
Meeting with Shakespeare
Amazing Czech Republic in August, has prepared a lotsurprise guests, and locals too. In the grand Prague are many activities within the Shakespeare Festival. The peculiarity of this ambitious cultural project - all performances take place outdoors, collecting a lot of fans of the talent of the great English playwright and contemporary interpreters of his work. Mass of pleasure and positive emotions guaranteed.
Photos vacation in the Czech Republic