Holiday in the Czech Republic in December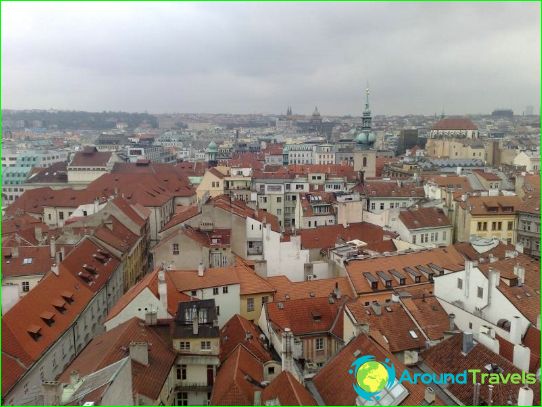 December in the Czech Republic is not reminiscent of the winter, and lateautumn. The average air temperature is 0C. Occasionally the temperature may reach + 10C, so that creates ideal conditions for outdoor activities. In mountainous areas the temperature is 3C (maximum) to -6C (minimum). Snow in many cities in the Czech Republic is rare, but can walk short rains. In mountainous areas, snow falls, thereby successfully start the ski season.
Leisure in the Czech Republic in December
Shopping tours. Many tourists come to the Czech Republic in order to enjoy the most favorable shopping. As of December fall massive grandiose sales. This month you can buy jewelry with Czech garnets, crystal souvenirs, stylish clothes and shoes at reasonable prices.
Christmas Fair. In the Czech Republic held the Christmas Fair, which begins in late November and ends on Christmas Eve. These activities can give faith in miracles. For several weeks, traders sell Christmas decorations, hand-made souvenirs, Bohemian glass, offer a taste cakes with marzipan, roasted chestnuts and ham, mulled wine to enjoy the present. Particular attention should be dens that recreate the beginning of Jesus Christ's life on earth. Den can be clay, cardboard, straw and wood. What enhances the feeling of Christmas approaches? Of course, enhance the feeling of "Christmas" odors. Many tourists say wonderful trdelnik, which is an Old Czech dish. Trdelnik is a piece of fried dough, which is wrapped around a steel rod, with cinnamon and powdered sugar. The smell of mulled wine, of course, adds a wonderful flavor trdelnika.
Ski resorts. In December, you can visit the best ski resort in the Czech Republic. The possibilities of this type of holiday will appreciate both beginners and experienced skiers. Holidays in December in the Czech Republic gives a chance to enjoy the winter scenery, try their hand on the slopes of different levels of complexity. Here, everything is organized for tourists assistance of experienced instructors, the possibility of renting special equipment, wonderful ways to relax in the sauna and spa-centers.
Photos vacation in the Czech Republic