Holiday in the Czech Republic with the children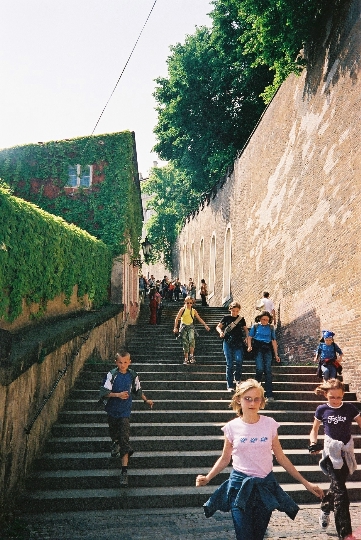 Czech Republic - one of the most beautiful countries in the world, andPrague and did find an unofficial winner of the European competition of beauty among capitals. Holiday in the Czech Republic with the children is good on many points, but the perfect opportunity to see the architectural and natural forms - one of the main reasons for the unprecedented popularity of this European state in tourism rankings.
"For" or "Against"?
Only about three hours on board a modernRussian airliner separated from the capital Prague. In such a short time, even kids will not have time to get tired of the road. Prices for holidays in the Czech Republic with the children is slightly lower than for tours in other European countries, and comfortable hotels and service in restaurants does not concede to others. And compares favorably with any portion of the Czech café. One dish salad or hot would be enough for two, especially since all Czech cuisine delicious and hearty.
The only downside in the Czech Republic vacation with childrenmay become extremely popular local attractions and a large number of people willing to meet with them. Avoid the crowds can be stood up early and went for a walk before the will of the crowd of tourists was late.
Passwords turnout addresses
Choose to relax in the Czech Republic with the children some one place is impossible, because there are so many interesting and exciting:
A couple of days can be devoted to familiarity with Czechcapital. Cathedrals and parks, bridges, restaurants, museums and theaters - in Prague, thousands of points of interest from the point of view of children, and according to their parents. Do not forget to enjoy the afternoon daily performance that satisfied ... the clock on the Old Town Square, Town Hall, and photographed on the Charles Bridge in the early morning.
Becoming a member of a boat trip on the Vltava River, you canvisit the most famous Czech castles and feel like a beautiful princess or medieval knight. The children will appreciate and dark dungeons, and bright ballrooms, where, it seems, has heard noises and footsteps of previous hosts.
Improve their health and gain vitality helpdoctors are the most popular Czech children's resorts. Kynžvart not far from Karlovy Vary specializes in diseases of the respiratory system. His staff is fluent in the methods of treatment mineral and thermal waters and magnetotherapy. Doctors resort "Manes" help young patients to get rid of diseases of the digestive and endocrine systems.
Photo