Czech Railways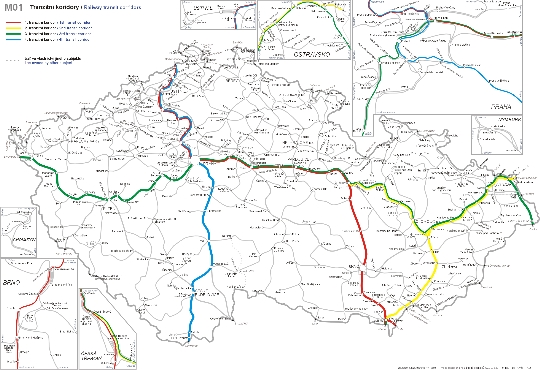 Czech trains have a high level of service. Many people prefer to use this means of transport to move around the country. Czech Railways developed very well. They form a network, which is in the state-owned company subordinated CD (Czech Railways). Her virtual resource is located at www.cd.cz.
Features of railway communication
The state is located in the central part of Europeand supports the transport links with other countries. By train to the Czech Republic can be reached from cities such as Amsterdam, Bratislava, Berlin, Krakow, Dresden, Budapest and others.
In the Czech city of ply passengerdifferent types of trains. Travelers can travel to the Czech Republic without the hassle. The official website of the Ministry of Transport of the country - www.idos.cz, presented the schedule of trains. There you can find out the cost of tickets, travel time and distance to destination. In the Czech Republic rail transport is considered one of the most affordable ways to travel across the country. From the category of train depends on its speed and cost of travel. In the Czech Republic trains of different types:
Regional Osobni compositions - move slowly and stop at each station;
Express high-speed trains and Rychlik;
fast trains with comfortable carriages - EuroCity and InterCity;
a new generation of high-speed train - Pendolino or SuperCity.
Prices w / tickets
Tickets for seats in Pendolino trains costmuch more expensive than in other formulations. This is explained by the high level of service. Buy train tickets can be in kiosks, vending machines and websites. In the country for passengers are the bonus system, through which you can get discounts. The website of Czech railways eshop.cd.cz traveler can buy a ticket online, using a plastic card for payment. To save money, it is recommended to use one of the coupon payment. The point of departure of almost all the trains are Brno and Prague.
Train tickets can be purchased for up to 60 daysdeparture. Tickets for the night train international lines are sold on the site wikitransport.com and w / e ticket offices at stations. Save on rail travel program helps In-Karta. Its members receive a discount of 25 - 100% at all w / tickets. Issued cards with different validity period, the cost of which varies. Registered In-Karta card can not be transferred to other passengers. For registration card should contact the Department of «In-Karta» at the main railway station in Prague.
Photo