The most beautiful city of the Czech Republic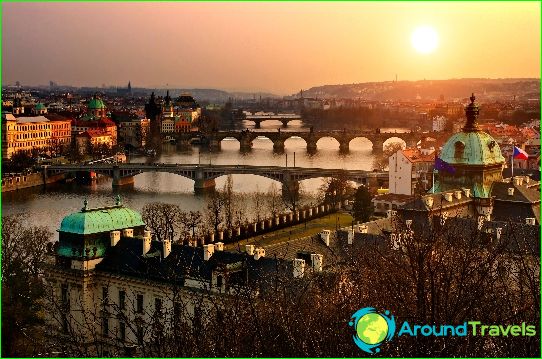 Czech Republic - a wonderful place, a country thatready to receive tourists in all seasons. The term "off-season" is clearly not applicable to this country. Museums, parks, cozy medieval streets, castles and of course the famous Czech beer - all this attracts tourists to the Czech Republic. Before traveling to the Czech Republic a tourist there is quite a difficult choice in what city to go? It is difficult to choose some of the most beautiful cities, they are all so amazing and unique.
Prague
Post a review of the Czech Republic's most beautiful cities is necessary withits capital - Prague. Prague - this is the real gateway to the Middle Ages. It creates the feeling that for its thousand-year history of Prague has steadily increased, new areas appeared around old castles and squares to grow more and more streets. Many tourists come here in order to immerse themselves in medieval times, and I must say that this city perfectly fulfills that goal. From the sights of the city is to provide the Prague Castle, the Old Jewish Cemetery, Dancing House, and others.
Brno
Brno is the second largest and the publiccity ​​of the Czech Republic. It is beautiful at any time of the year and attracts large number of tourists due to its interesting history, many monuments of architecture and unique traditions. It should be noted Ruduta theater, which played 11-year-old Mozart, Augustinian Monastery and Shpilbek fortress - one of the most interesting attractions of the city.
Czech krumlov
Another unique city of the Czech Republic. Despite its remoteness from the capital, it enjoys great popularity among tourists. All the advantages of the city list is hard enough, we can only say that there is something to see. Interesting fact: The archaeologists say that in the city of people lived in 6000 BC! The whole city is under UNESCO protection. Of interest is to provide Krumlov Castle, City Hall, Whipcord Bridge and Wax Museum.
Plzen
The city is home to many well-known brewery"Pilsner Urquell". Plzen - an ancient city with a unique history and a lot of attractions. Among the interesting places in the city is to provide the royal castle Radin, Gothic cloister, the town hall (the largest area town hall in Europe), the zoo and the Dinopark.
This concludes our review of small and interestingbeautiful cities in the Czech Republic. Of course, it is not all towns that can and should visit the Czech Republic. For example, in the list of the most beautiful cities can also be attributed Ostrava, Karlovy Vary, Telc and others.
Photo