Food Czech Republic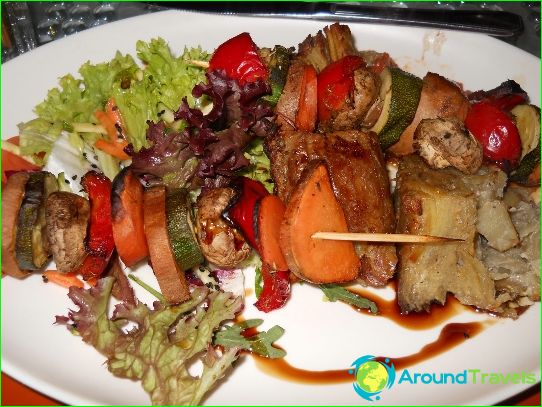 The Czech cuisine has been influenced byHungary, Germany and Austria. Borrowed dishes are roast goose with sauerkraut, goulash, schnitzel and others. Czech cuisine belongs to the Slavic. So many dishes resemble Russian Czech. There is a similar meat dishes, soups and side dishes. The kitchen of this country should not be the principles of a healthy diet, but it is different variety of dishes with delicious taste.
Subtleties of Czech cooking
Eating local population based onthe use of very high-calorie meals. Many foods have a high fat content, and therefore they are hearty. Serve them with a lot of starchy foods. Czechs are very fond of dumplings - it boiled pieces of dough (flour or potato) round shape. Dumplings are a fixture of the national table. Sometimes they eat as a separate dish, add the stuffing of meat and onions. Dumplings are also eaten with jam and biscuits.
From meat Czechs prefer beef, pork,venison, deer meat and rabbit. Pre-soak the meat in the marinade with spices. Meat baked, stewed and fried. On his table is served with a side dish. This can be a potato, rice, potato dumplings. The classical Czech dish - fried sausages or hot dogs with sauerkraut. An important product of the national cuisine is the potato. It is served in various forms together with meat dishes. In addition, it makes delicious pancakes bramboraki. From fish Czechs eat carp, salmon, cod and trout, poultry - geese, chicken and duck.
Main courses Czech Republic
Lunch is traditionally begins with a simple soup. Despite the simplicity of preparation, Czech soups differ unusual taste. Among the national dishes to eat soup with sauerkraut, apple and onion, noodle soup on the beef broth, garlic, potato soup, and others. The most common meat dish is goulash. It is made from beef, pork, rabbit, liver and others. The most popular is beef goulash. For him, take beef sticks, flour, tomatoes, cumin and garlic. Another masterpiece of cooking is "veprevo knee." It is a leg of suckling pig, marinated in beer seasoned and fried to a golden crisp. The main drink Czechs consider beer. To him they invented a lot of spicy and savory snacks. Czech Dishes are served with horseradish, mustard and sweet ketchup. Without sauces here do not sit down to dinner. There are plenty of traditional Czech sauces: cucumber, tomato, sour, cheese, caramel, onion and others.
Photo