Resorts of Czech Republic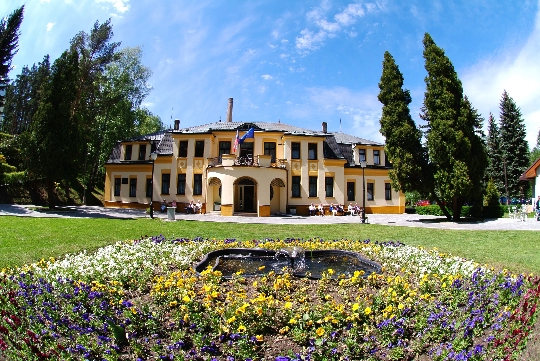 Ancient castles and medieval cobbledBridge, monumental cathedrals and magnificent bridges, the ideal natural scenery and noise on market squares Christmas Fair - all the Czech Republic, near and far, old and young. Balneological resorts Czech Republic selected classics fans, for whom the first place - comfort, service and proven principles for centuries and treatment recipes.
Always in the TOP
The famous resorts of the Czech Republic, where guests relieveall ailments and return to the joy of life and positive mood, have a long history. Thermal and mineral water of local sources have been well known for several hundred years ago, but because of the Czech tradition of healing has accumulated many years of work of several generations of healers:
Hydrotherapy Institute was founded in Czech townTeplice in the XIX century, although the healing power sources have been known for ten centuries before. Today, the spa resort of the Czech Republic in Teplice successfully cure various diseases of the joints, bones and muscles and help patients cope with the disruption of the normal physiology of the nervous system. Doctors at the local health centers give patients after severe leg injuries and ensure a successful rehabilitation of post-operative patients.
The town is famous for its healing Jachymovradon baths. In combination with electrotherapy, massages and physiotherapy, this method of treatment of diseases of the musculoskeletal system delivers excellent results, even in elderly patients.
Powerful sources of mineral water with a highhydrogen sulphide, calcium and magnesium caused the construction of health centers in the Czech Republic in the resort town of Podebrady. It cures many cardiovascular diseases, and the level of rehabilitation of patients after a heart attack or stroke, has allowed to include in Podebrady international list of world value resorts.
From the XIV century, Carlsbad known as a place where you can forget about dozens of ailments, because of its healing springs back vitality to millions of people in the history of the famous health resort.
Active and sports
In the Czech Republic resorts hurry not only for treatment, butand adrenaline. Ski Resorts in Spindleruv Mlyn, Giant Mountains, Harrachov or Liberec fans are choosing high-quality ski runs and a comfortable infrastructure, for which it is not necessary to pay. Czech slopes are beautiful and well maintained, runs a variety of difficulty levels allow you to ride, and the pros and newcomers, and an interesting evening program at the resorts will not allow to get bored in their spare time, active recreation.
Photo