Taxis in the Czech Republic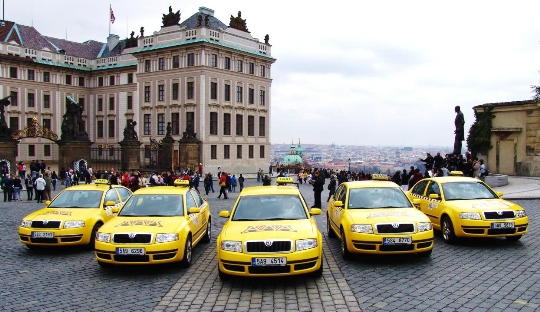 A small state in the heart of Europe convincinglyIt shows that, under certain conditions and in limited areas, you can create a real paradise for tourists. It features - smart landscapes, historical monuments, cultural, entertainment and even a taxi in the Czech Republic. Public transport in the Czech capital, and in other cities goes on schedule, it can be seen at every stop. Many of them are also equipped with electronic boards.
Czech taxi
A local taxi cab company enjoys no lesspopular, especially among tourists, which are closer to midnight in a hurry to get to their hotels. To trip was normal and not a guest emptied the purse, it is necessary to take into account some special features.
Transportation of passengers serviced in the Czech Republic engaged in: a licensed company; individuals, taxi drivers also have a license; Left drivers, who are not averse to earn extra money.
Ideal - a trip on a normal taxi,find the car easily on the glowing plate on FAIR TAXI roof. In each such vehicle you can find a lot of useful information, in particular, the price list of services (cost of planting, mileage, waiting) and information about the carrier.
City of Prague management strictly monitors the work of taxi drivers, given that they are working on the image of the Czech Republic and the capital. Therefore, in the case of boorish behavior of taxi drivers can safely handle the complaint.
Interesting innovations
The traditional way to order a taxi Czech,a telephone call may soon be thing of the past, because the rapidly evolving electronic technologies. Already today Play markete can find and download the mobile application for Android phones that is designed for the Czech Order a taxi online.
For owners of Czech phone cardsThe Internet has connected another mobile application MODRY ANDEL - More than TAXI. With a fairly simple interface is easy to book a taxi anywhere in the city. Although the company also offers traditional ways of ordering a taxi through the manager (phone +420 737 222 333).
If such methods are not yet available, it is possibleuse the conventional system, referring to one of the operators. In the most famous Czech companies providing transportation services for taxis, it appears (dispatching service phone numbers):
AAA Taxi (+420 221 111 111);
SEDOP (sms-call 777 722 255, +420 271 722 222);
City Taxi
Speed ​​Cars (+420 224 234 234);
Taxi Praha (+420 222 111 000).
Find a taxi in the Czech Republic, especially in the capital, major cities and resorts, it is easy. You only need the desire and a small amount of cash in your wallet.
Photos of taxis in the Czech Republic