Zoo Brno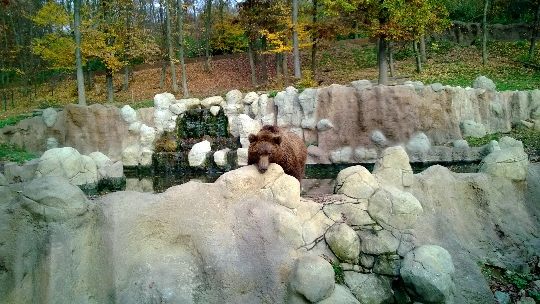 The idea of ​​a city zoo appeared in1935 and after a couple of years on the street appeared Konikova menagerie. After the Second World War he moved to a new location, where parallel began laying the botanical garden. The grand opening of the zoo in Brno took place in 1953, and since then it is visited annually by tens of thousands of animal lovers from around the world.
ZOO Brno
Title Zoo in Brno is not well knownonly patrons, but also biologists. It conducted various research work to preserve rare animal species. The park is home to about 1,450 residents, representing not less than 340 species.
Pride and Achievements
Zoo Brno organizers take pride in their collection of reptiles and birds, and the children especially love to visit the Mino-zoo, which has the ability to personally interact with tame rabbits, goats and pigs.
Every year there are a lot of light on newborn animals in the park, among them such rare as emerald dove and arctic wolf.
How to get there?
Address Zoo - U Zoologické zahrady 46, 635 00 Brno, Czech Republic. Reaching here is easiest on buses 50 and 52, tram 1, 3 and 11 and the bus 30 route. Stop called Zoologicka Zahrada.
For visitors who prefer private transport, parking at the entrance open.
Helpful information
Hours zoo in Brno:
From November to February inclusive, the park is open from 09.00 to 16.00.
In March and October - from 09.00 to 17.00.
From April 1 to the end of September to the zoo can be reached from 09.00 to 18.00.
Ticket sales cease one hour before closing.
Reliable feeding animals placed on the zoo website. The most popular with the public tigers and seals are invited to watch the feeding at 10.30 and 11.00 on Saturday and Sunday.
The price of tickets in Brno Zoo:
Adult - 100CZK.
Tickets for students, senior citizens, children from 3 to 15 years and persons with disabilities - 70CZK.
Family pass for two adults and 2-3 children from 3 to 15 years - 270CZK.
Photos can be done by paying 10CZK per camera.
Video shooting is enabled by purchasing a special pass for 20CZK.
Dogs allowed. The ticket price for your pet - 30CZK.
Kids up to three years can enter the park for free.
Services and contacts
In the zoo you can buy various souvenirs with the symbols of their own, forge a commemorative coin, dine in the cafe, buy drinks and use the services of a professional photographer.
For kids Park offers pony rides, trampoline and playground. For the youngest visitors, parents can rent a baby stroller.
Guests on roller skates, skateboards and bicycles are not allowed in the park. They can be left in the storage room or on a special stand.
The official website for further detail - www.zoobrno.cz.
All questions can be asked by calling +420 546 432 311.
Brno Zoo Pictures