Airports in Denmark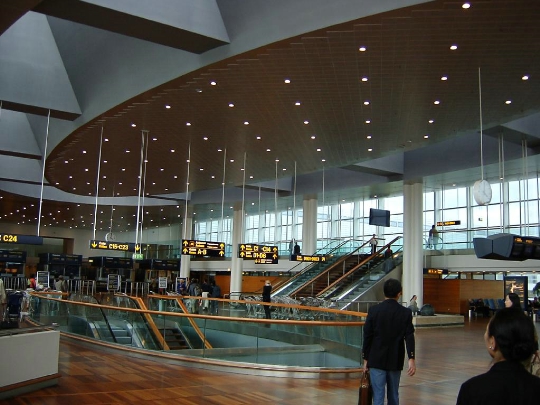 Among other Scandinavian neighbors Denmark - theminiature. On its small territory collected many interesting attractions and activities, making the Danish airports are popular among travelers. To get to the homeland Andersen easiest way on the wings of "Aeroflot" and SAS, the schedule of which has direct flights from Moscow to Copenhagen. Flight time will be a little more than two hours.
The international airports in Denmark
Among the Danish airports, only four have international status, but is enough to provide air service to the closest European capitals and other major cities of the world:
Copenhagen Kastrup Airport - the largest in the Nordic region. Here are based Scandinavian Airlines, Thomas Cook Airlines and Norwegian Air Shuttle.
Denmark Airport 2 km north-east of the cityBillund is popular among tourists with children. The city where the airport is located, is famous for its Legoland amusement park. And this is a major aviation hub for those who live in the western part of Denmark - hence the flying Air Berlin and AirBaltic, Air France and British Airways, Czech Airlines and KLM, Lufthansa and Turkish Airlines. Billund Airport offers passengers seasonal charters in hot countries - Sri Lanka, Thailand, United Arab Emirates, Mexico and the Dominican Republic. Details are available on the site - www.billund-airport.com.
6 km from the city of Aalborg is a smallDanish international airport, from where you can fly to Riga, Frankfurt, Amsterdam, Antalya, Istanbul, Barcelona and the Faroe Islands. Despite the small size of the air port, passengers are welcomed - duty-free shops, cafes and restaurants. For more information visit - www.aal.dk.
The international airport is 36 km from the town of Aarhustakes Scandinavian Airlines flights from Copenhagen and Stockholm and British Airways from London, Gothenburg and Oslo. Transfer to the city is accessible by taxi and bus route 925.
metropolitan area
The main international airport in Kastrup and DenmarkCopenhagen center shared by only 8 km away. This air harbor serves a daily basis, more than 60 thousand. People and works with 60 regular airlines. In addition to flights of local carriers, listed in the schedule of departures of all European airlines. From Copenhagen to make direct flights to London and Paris, Rome, Milan, Brussels and Vienna, Prague and Frankfurt.
the capital airport transfer is possible:
By train. The station is located in the arrivals area of ​​Terminal 3. Trains follow up to Copenhagen Central Station, where you can take the train to Malmo, Gothenburg, Kalmar and other Scandinavian cities.
Metro. M2 line clock connects Kastrup airport to the center of the Danish capital. Entrance to the subway - in Terminal 3, two levels above the railway station.
On buses. Routes 5A, 35, 36 followed by Copenhagen and route 888 - for those who came to the amusement park Jutland.
Photo