Airport in Copenhagen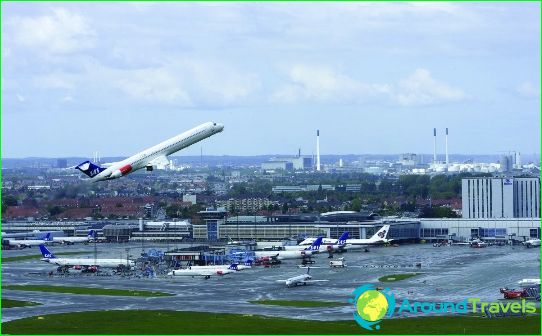 Kastrup - one of the largest internationalScandinavian airports. The airport, which is located about 10 km from Copenhagen, was built in 1925 in the municipality of Tårnby. Copenhagen Airport is considered mainly for large Scandinavian airline SAS. But in general, the airport serves more than 60 airlines and has flights to more than 110 destinations.
History
As mentioned above, the airport has been constructed in1925. Initially, the main building was a castle. Later, in 1939, it was decided to erect a new building, which was built by architect Wilhelm Lauritzen. Castle decided to keep, but it moved about 4 km west to liberate the eastern part of the airport for expansion.
Later Kastrup Airport was renamed in Copenhagen Airport.
terminals
Copenhagen Airport has 3 terminals. Terminal 1 was built in 1969, at the moment he is responsible for domestic flights.
Terminals 2 and 3 were built in 1964 and 1998. respectively. Both terminals are solely responsible for the international flights.
I should add that in the terminal 3 has w / d station, which connects to Copenhagen and other cities in Denmark and Sweden, and here is the subway line.
From one terminal to another can be reached by shuttle bus, which is free for 5 minutes will take passengers to the right terminal.
services
Copenhagen Airport offers a number of usefulService - cafes and restaurants, banks and ATMs, currency exchange, etc. Comfortable lounges allow comfortable to spend time waiting for a flight.
We should also mention the supply of information - a variety of leaflets, placards and friendly staff, most of whom speak English.
The negative points are: lack of free internet and high prices in the shops.
Transport
It can be reached in several ways from the airport in Copenhagen:
By bus. Bus parking is located at the exit of the terminal. movement interval: day time - 15 minutes; at night time - 20 minutes. You can use the routes 5A, 35, 36, 75E, 76E, and 96N.
By train. It has already been pointed out that the w / d station is located in Terminal 3. The box office located above the station, besides the ticket can be bought at the station.
Metro. Metro is also located in the terminal 3. The boarding pass can be purchased in one of two kiosks that are on the way out.
By taxi. Taxis are available at the exits of each terminal. Taxis will take passengers anywhere in the city.
Photo Copenhagen Airport