Copenhagen - capital of Denmark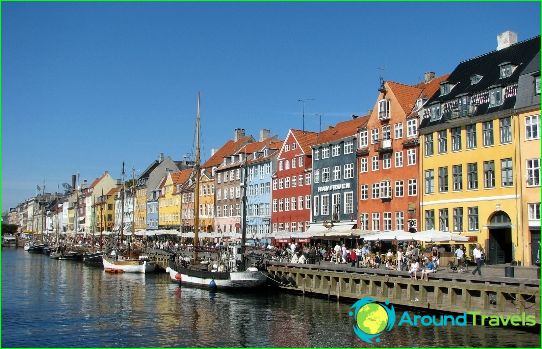 The capital of Denmark - a quiet city in Europe where youwaiting for the heroes of fairy tales by Andersen and colorful "gingerbread houses". Modern Copenhagen is packed with museums, but it does not upset the inhabitants of the city, and even more so his guests.
Royal Square
The main square of the city was built more than 300years ago and is 32 hectares. Kongens Nytorv (so called area) was the beginning of 13 city streets. Here are concentrated many attractions of the city, so a walk around the city, it is best to start from here, and the first is to examine the street Stroget.
Center Square is decorated with a statue depicting King Christian the V, seated on a horse. It was at his request, and was built by Kongens Nytorv.
Christiansborg Castle
Castle is the official residence of the royal family and is located on the island of Slotsholmen, which is from the usual city life separates several water channels.
Christiansborg history goes back more than 8centuries. He has experienced several major fires, after which rebuilt again. Its modern look after the castle was another fire in 1884, when the building was restored once again. Most of the palace premises given for the use of the Danish Parliament and the Supreme Court, and the remaining rooms are private apartments of the royal family.
Designed castle building in the neo-baroqueThorvald Jørgensen. As the basic material he used reinforced concrete, but the facade of the palace is made of granite. Granite boulders to its design going across the country, and even imported from Greenland. Throne and the front rooms of the palace are open to visitors.
Tivoli Park
Tivoli is one of the largestamusement parks all over Europe and is surprising not only for its size but also the attractions. Here you can ride as the most common and tickle a completely amazing swing.
Park takes just an incredible number of visitors - 3 million people a year.. In the evening, it is especially beautiful in the light of the bright lights. At midnight it is traditionally arranged grandiose fireworks.
Gefion Fountain
Another of the attractions of the capital. Installing a fountain was dedicated to the round date - the 50th anniversary of the brewery Carlsberg. He was supposed to decorate the main square of the city, but for some reason, Gefion was installed not far from Kastellet.
Creating the fountain fell on the 1897 - 1899 years. Then it took another few years to complete the decoration of the pool, and in 1908 earned a fountain.
Photo