Copenhagen Metro: map, description, photos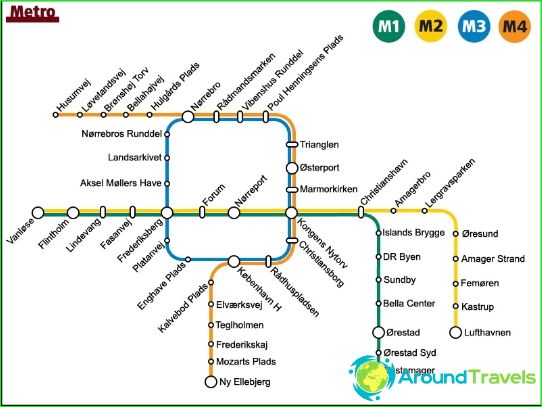 Driving the Copenhagen Metro
Copenhagen Metro was opened in October 2002, when it was launched a fully automated line from the eastern part of the city to the west. Despite the fact that the underground Danish capital is very young, 6 years after the start of passenger traffic it is already recognized as the best in Europe. Subway has two branches and 22 stations, only 9 of which are located under the ground (11 km length of the lines), 13 ground stations (12 km line length). Each year, the metro transports more than 50 million passengers (54.3 million. In 2011). By 2018, in the long term the opening of 3 new lines, one of them will ring. The first projects of subway construction in Copenhagen appeared in 1992, their goal was to examine the most comfortable options for the residents of transport links between the city center and outlying areas. Five years later, construction began and 34 were purchased rolling stock from the Italian company Breda. The cars were developed jointly by the Danish and Italian designers and constructors. They have a wide campaigns and platforms for wheelchairs and bicycles. In the absence of the train driver (Automatic Train Control), from the wide windows of the first metro car passengers opens a fascinating spectacle. April 1, 2001 there was a so-called "false start the underground", when in the framework of the celebration of the Day of laughter in the center of Copenhagen was set layout "emitted to the surface" subway car. Layout served as coach of the Moscow subway neighboring Sweden. The actual launch of the metro in Copenhagen fell on October 19, 2002.<
Copenhagen Metro Stations
Metro stations on the streets can be found at5-meter informational columns, which indicated the current station and the station are listed throughout metro line. On the platform in the subway can be reached either by lift or on the escalator. Underground stations have a transparent enclosure with sliding doors that are synchronized with the doors of the train and the ground stations do not have a fence, but the system operates emergency stop when the composition of foreign objects on the rails. All stations operate underground workers in uniform, providing information and other assistance to passengers.

Hours Copenhagen Metro
Copenhagen Metro runs around the clock. There are small 20-30 minute technical breaks at night on weekdays from 24:00 to 05:00, and 15-minute in the night from Friday to Saturday and from Saturday to Sunday. However, when using parallel lines, this process goes unnoticed for passengers except 4-day period of overhaul, which takes place every 2 months only on weekdays (at night). Intervals of trains vary from 2 minutes during rush hour up to 20 minutes later.

Tickets for the Copenhagen metro
Tickets for the underground can be bought from vending machines or atticket offices at stations. At first pass, they need to be validated in one of the validators installed in the lobbies of stations. The fare in the underground zone of Copenhagen. Met is divided into four zones. Inside the 1st zone fixed payment, then the payment is increased according to the distance (number of zones). 50 per cent discount on fares apply to children under 16 years. For children up to 12 years travel free, but you need adult support.
Photos Copenhagen Metro
Driving the Copenhagen Metro