Christmas in Denmark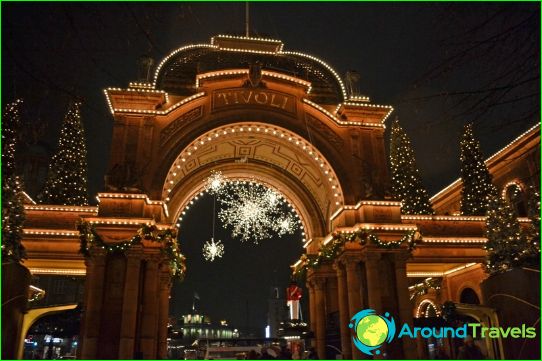 With the onset of the first Friday November Denmarkimmersed in the pre-holiday bustle and begins to prepare for Rozhestva. The signal is first batch of Christmas beer of the year and the beginning of sales in local stores. Is this not a reason to go on an exciting journey and celebrate Christmas in Denmark? A stay in the country, as if descended from the pages of old and good tales of Andersen, the dream of every adult, has kept in mind infantile and mischievous sense of adventure.
Silk heart
The capital of the kingdom - the old Copenhagen. It is he who takes the brunt of themselves. Here dress up the biggest Christmas tree in the country, and on the square near the Town Hall set a large glass cube, in which everyone can drop a donation for children in poor countries. The area is decorated with hundreds of bulbs Christmas lights and hearts cut out of scarlet silk.
Christmas in Denmark - it's the aroma of cinnamon andspices for mulled wine, floating above the city, and the fabulous gnomes in the souvenir shops, and red bows in wreaths on each door, and candles on the windows in honor of the most light and joyful day of the year.
Tivoli for fans of the beautiful
Christmas - famous Danish Tivoli ParkCopenhagen's symbol. It is decorated with thousands of colored lights, and from the observation deck, open to the Round Tower, Denmark's capital is visible at a glance. This place is popular with fans photoshoot.
Skating on Kongens Nytorv Square -another mandatory program item for Christmas in Denmark. Warmed before or after help corporate glegga cup in a cafe nearby, which is officially recognized in the country Christmas drink Andersen. By the way, the Danish festive table includes and many other delicacies. It is accepted to cook roast pork with boiled potatoes, red cabbage in a special gravy, sweet rice pudding with almonds, vanilla cream and cherry jam.
souvenir joy
What a tourist without buying souvenirs? At Christmas in Denmark every thing there is a shopaholic like. In the capital New Haven many weeks noise is the biggest fair of the city, which the envy of any European range department store. At the market in Christiania, you can choose the clothes and accessories handmade associated with traditional folk patterns, and in the courtyard of the Royal Café serves a festive menu of sweets and desserts.
Denmark - a country with a rich historical past. But not only the sights so tempting here its guests, but also a special fairy-tale spirit, allowing each adult a little late in childhood.
Photos of Christmas in Denmark