Traditional cuisine of Denmark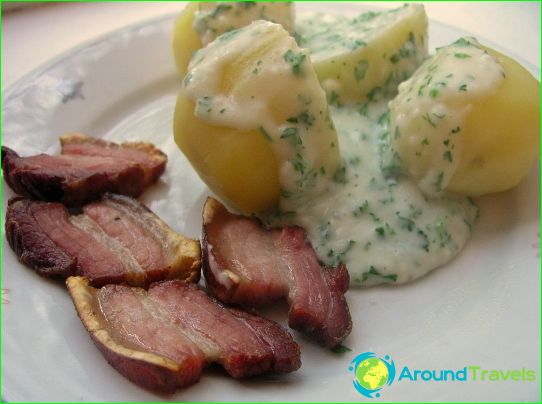 Food in Denmark is characterized by the fact that the Danishestablishments offer its visitors a wide variety of local and international cuisine (here you can find Chinese, Indian, Italian, Greek, Ethiopian cuisine).
As for the cost of food, in Copenhagen on food prices are higher than in the provinces.
Food in Denmark
The diet consists of Danish meat and dairy products, seafood, fish, vegetables.
The Danes are very fond of sandwiches (in the countryThere are more than 200 traditional recipes of different sandwiches): many of them - layered, and there are such unusual combinations, like pineapple radish + salmon + chicken.
In Denmark, it is worth trying a multilayer sandwich;pickled herring; roast pork with red cabbage; Danish bacon; liver pate with onions and slices of corned beef; smoked eel with fried eggs; salted chicken with pineapple.
Where to eat in Denmark? At your service:
restaurants, cafes and tavernas;
Fast food restaurants international chains (McDonalds, Burger King) and local "Pølsevogan" network (here sell hot dogs);
snack bar and pubs (these establishments offer their guests a variety of drinks and snacks);
restaurants offering special meals for people with diabetes (such places have the inscription: "Nutrition for Diabetics - healthy food for all ').
If you eat breakfast at the hotel, then youwill appreciate the abundance of dishes offered: usually served for breakfast bakery products, cereals, cheese, ham, coffee, juice, and lunch - sandwiches with cheese, meat, fish and various spices.
If you decide to save money and eat on their own, then you should pay attention to Fakta and Netto supermarkets (in their food and drinks are cheaper than in other stores).
Drinks in Denmark
Danes popular drinks are coffee, tea, beer, aquavit (a kind of Danish schnapps).
Beer lovers will enjoy this foamy drink in cafes, bars and pubs. Bottled beer - the cheapest and draft beer is more expensive and it is weaker than the bottle.
Gastronomic tour in Denmark
Serves Danish cuisine in restaurantsany city, but for authenticity should go to the countryside - there you will be able to stay in old hotels, which operate inside restaurants, offering its guests enjoy exclusive national cuisine.
Embark on a gastronomic tour in Copenhagen,you can visit the restaurants to get Michelin stars, and even be able to dine at the restaurant "Noma" (he did not once awarded the title of "the best restaurant in the world").
Denmark glory brought not only the Vikings, ancient castles, numerous fairy tales and ancient legends, but also delicious, special dishes.
Photos national dishes Denmark