Cuisine of Denmark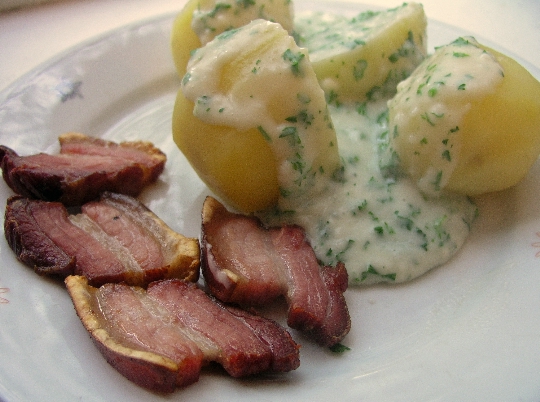 Cuisine of Denmark was formed under the influence of the German and Scandinavian cuisine: it is famous for a rich selection of cold appetizers.
National Cuisine of Denmark
The most famous Danish dish - smerrebred: this sandwich of rye bread, buttered, spread a variety of ingredients such as anchovies, egg, parsley, tomato puree; grilled fish with sauce "remoulade" and lemon wedge; boiled pork, green onions, and pickled beets.
In Denmark, like meat (from it then make stew,burgers, sausages, salami) and fish (specialties prepared from flounder, eel, mackerel). It is worth noting that the meat is usually complemented by a classic brown sauce, fish - mustard, and the one and the other - berry sauce, which is made from cranberries, cranberries, raspberries and other berries.
If we talk about specific specialtiesDanish regions, for example, on the island of Funen is to taste flour pudding sakkuk with pork fillet, on the island of Era - yeast pancakes with honey on the island Man - spicy herring, cooked in a special way.
Popular Danish cuisine:
ragout of pork with red cabbage;
pork ribs in beer;
game sauce with baked potatoes;
roll of eel;
apple pie, whipped cream and currant jelly.
Where to try the national cuisine?
In Denmark you will find a lot of fast food, wheresmerrebreda serves a variety of options, as well as beer-pubs where you can taste the Danish beers. If you decide to eat in the restaurant, bring your cash - reception cards major payment systems may boast, not all the local eating establishments. You are going to dinner in a small restaurant, especially in the province? It makes sense to contact the property in advance to reserve a table - are often the work of such institutions is subject to the individual schedule.
Satisfy your hunger in Copenhagen, you will be able to "Told &Snaps "(in addition to branded sandwiches with various fillings, restaurant offers eat corned beef, herring, pork with sauerkraut and washed down with these dishes snaps) or" Royal Smushi Cafe "(the restaurant specializes in traditional Danish open sandwich, as well as berry soup with cream) and in Odense - in "Carlsens Kvarter" (in this institution, which is decorated in the style of the Danish Middle Ages, visitors are offered to taste 50 varieties of Danish beer, and still there is often live entertainment events).
Cooking Courses in Denmark
For those interested in Danish gastronomy offergo on a gastronomic tour of Copenhagen "Noma. Northern Foods. " As part of the tour master classes and sessions in which participants will learn how to cook some local dishes will be held.
In Denmark should come to the festival cooking Copenhagen Cooking (August), where you will wait for themed show, participate in cooking contests, tasting Danish dishes.
Photo