Airports Ecuador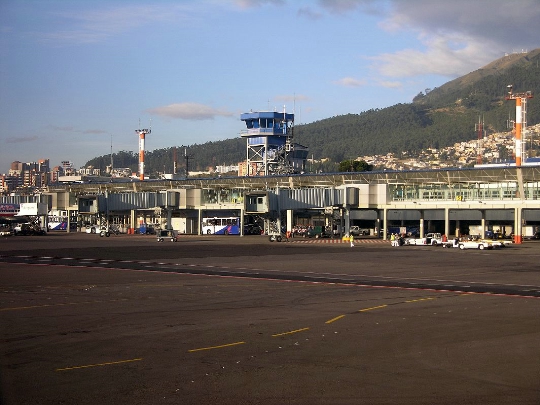 Ecuador Location state location on the mapSouth America, it is clear from the title - this is where you can make a memorable photo, being in two hemispheres. In addition to the equator, the country still has many tourist attractions, among them - the Galapagos Islands with its amazing wildlife, pristine beaches on the Pacific coast and the old city, in the days of the conquistadors based conquest of America. Direct flights from Russia to Ecuador Airports No, but with connections in Amsterdam, Madrid or Frankfurt, travelers from Moscow happy to deliver KLM aircraft, Iberia and Lufthansa. In the sky will have to spend at least 17 hours.
International airports in Ecuador
In addition to the capital to Kyoto flights from abroad take some more air ports of the country:
Airport in Santa Rosa in the southwest serves flights from Peru and Ecuador capital Quito.
Air Harbor Jose Joaquin de OlmedoIt is responsible for the province of Guayas and the west of Ecuador. The second busiest in the country, this airport is located 5 km from the center of Guayaquil. In 2011, the port was awarded the title of the best in Latin America and its infrastructure is consistent with the highest international standards. The schedule of the airport there are flights of Ecuador in Miami, Buenos Aires, Bogota, Lima, San Salvador, Panama, New York, Amsterdam and Madrid. Basic Airlines - Avianca Ecuador. Details on the website - www.tagsa.aero.
Eloy Alfaro - a civilian airport,which it is based, and Air Force aviation Ecuador. City, where the airport is located on the west of the country on the Pacific coast and is called Manta. On the airfield Eloy Alfaro regularly land board Avianca Ecuador from Quito and Avior Airlines from Barcelona.
metropolitan area
18 km share capital of Ecuador Mariscal Sucre airport and Quito. Air Gates - one of the largest in South America. They take on a weekly basis and sent more than 220 flights.
The airport was inaugurated in 2013 andtoday two of its terminal passengers take Copa Airlines flights from Columbia, Delta Air Lines from Atlanta, Iberia from Madrid, JetBlue Airways from Fort Lauderdale, KLM from Amsterdam, LAN Airlines from Santiago de Chile and United Airlines from Houston.
Taxis will help with the transfer to the city. Public transport is at the exit of the terminal.
Website - www.quiport.com.
On the magical island
The most amazing aerial Ecuador gatesBalta located on the island of the Galapagos archipelago. In 2012, they became the world's first "green" airport, where the use of modern energy-saving and environmental technologies. The air harbor Galapagos sources of energy are the sun and wind device, and the ocean water is desalted.
All flights are made here by air carriers Avianca Ecuador and LAN Ecuador from Quito, San Cristóbal and Guayaquil.
Photo