Airports in Egypt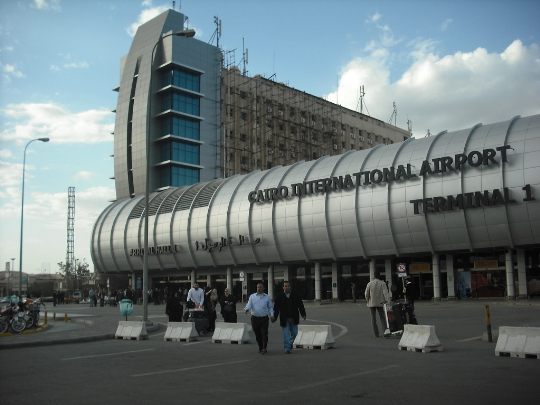 More than a dozen airports in Egypt are takingevery day thousands of tourists on their way to a meeting with the beautiful beaches, treasures of the Red Sea and the unique heritage of ancient civilization. The most popular air gate of the country is located near the resorts and the capital of the country of the Pharaohs. From Moscow to Cairo several times a week flying "Aeroflot" and EgyptAir, and towards the beaches are organized charter flights and regular flights from a variety of Russian cities. Travel time from the capital city is 4.5 hours.
The international airports in Egypt
The main air harbor for the absolute majority of Russian travelers are the airport of Hurghada and Sharm el-Sheikh. In addition, the land can also in these cities:
The new terminal at Taba was built at the end ofthe last century, and since then the Egyptian airport is able to receive up to half a million passengers annually. In addition to domestic flights EgyptAir Taba airport receives charter flights from the UK, Switzerland and some other European countries.
Egyptian airport in Marsa Alam was built in connectionwith the development of beach tourism in the southern part of the country. The city where the airport is located, is very popular with European travelers, but because the main airlines that have flights to Marsa Alam, based in the Old World. On the south coast of the Red Sea can be reached by the wings of Air Berlin, Thomas Cook Airlines, Transavia, LOT Polish Airlines and other airlines. Details on schedules and services at the address - www.marsa-alam-airport.com.
In the nearby Valley of the Kings on Luxor's possiblefall, landing at the international airport in Egypt, 6 km from the city. For passenger service - the room mother and child, duty free shops, restaurants, currency exchange and car rental.
metropolitan area
Egypt Main Airport is 15 km from theCairo downtown. International flights are made from Terminal 3, which has all the air port position for such status infrastructure - shops Duty Free, restaurants, hotels, car rentals and currency exchange.
Airport transfer is carried out oncars, which can be ordered at the exit of the arrival hall. Tour price depends on the class of car and destination. Of the proposed taxi should choose the car of white color, equipped with taximeter.
On the beach holiday
Major airports in Egypt, whose services are used by tourists - is the air gate of the Sharm el-Sheikh and Hurghada.
The first - a regular object of attention of the Russianairline "Aeroflot", "Orenburg airlines", "Russia", "Vladivostok Avia", "Kogalymavia" and some other carriers, organizing regular and charter flights from Moscow, Orenburg, St. Petersburg, Vladivostok, Mineral Waters, Irkutsk, Kemerovo and many more cities.
Hurghada receives daily from the Russian sidethe capital and the provinces. Transfer to your hotel, tourists usually charge accepted by the Company, but also car rental service at the airport is running fine.
Photo