Tours in Cairo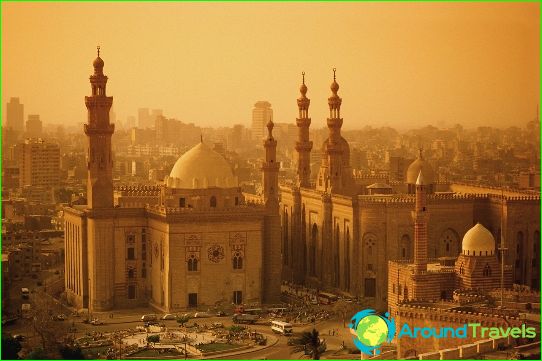 The capital of the country, where the Russians are flying on holidayalmost no more frequently than at local resorts, called the city of hundreds of mosques. Even the coat of arms of Cairo depicts delicate outlines of the high minarets on the foundation of an elegant Arabic script. For a normal spa guests tours to Cairo often limited to inspection of the pyramids of Giza, but also in the Egyptian capital, there are many places, it is worthy of a full tour details.
Briefly about the importance
Cairo - is a huge metropolis, which atStatistics live almost ten million people. The old buildings, narrow streets, not too outgoing local population, not knowing the majority of foreign languages ​​- are important reasons to closely monitor the tours and try to keep up with the group. Not too experienced a traveler lost in the maze of the medina Cairo better not.
Hot summer in Cairo - is not the most favorabletime for his visit. Heat looks truly withering: the proximity of the Sahara does not allow the thermometer drops below 35. The best season for a comfortable tour in Cairo - the end of winter and the first half of spring. However, the night can be quite cool, so a pair of warm clothes in the suitcase will not redundant.
Getting around the city is easiest on the subwayCairo. So can avoid traffic jams and the consequences are not too correct manner of driving locals. Metropolitan capital of Egypt - the first discovered in Africa and the Middle East.
When choosing a restaurant for dinner, it is important toattention to his health condition. From ice in drinks should abstain in any case, but the hot dishes can be quite safe to order even from street vendors.
On examination, it is important to respect the tradition of mosques -take off your shoes and avoid open areas of the body too. All existing mosque in Cairo, and hence they should be regarded not as a museum but as objects for religious worship.
The legends of the ancient world
Not only the opportunity to touch the grayGiza Pyramids warms the soul traveler who goes on tour in Cairo. At least he wants to visit the Egyptian Museum of the capital, where carefully preserved 120 thousand rare books, telling about the history of the ancient world in general, and of its Egyptian segment in particular. The museum was opened in the beginning of the twentieth century in order to preserve the priceless finds from archaeological sites. Among the most expensive items - Pharaonic mummies and objects from the tomb of Tutankhamen.
Cairo
Photo