The airport in Hurghada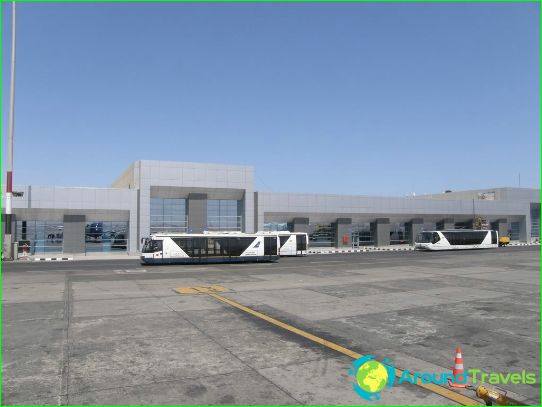 Hurghada Airport is located five kilometers from the resort city and has international status. It links the city with major aerouzlami Russia and Europe, and the Far and Middle East.
Transport infrastructure
Near one of the largest airports in Egypttrail passes leading out of the city in the southwestern part of Egypt. The journey from the airport to the city takes about 15 minutes. The main transport connecting Hurghada and terminal, is a taxi and shuttle mikroavtbusy owned by private carriers. By taxi, you can get anywhere in the city, as well as in the coming resort areas, such Makadi Bay and Sharm el-Naga. However, in order to avoid unpleasant situations, the fare should be negotiated in advance. As for the buses, their parking lot is close to the terminal. It is worth mentioning especially the use of this mode of transport - there are no clear route stops, everything stops occur on demand.
Facilities and Services
The airport passenger terminal locatedwaiting rooms as standard as well as high level of comfort, several ATMs and currency exchange offices, souvenir shops and mini markets that sell products needed on the road. In addition, the airport opened jewelry and perfume shops, as well as several newspaper kiosks. In the so-called "sterile" zone of Duty Free shops work round the clock, where you can buy souvenirs in the gift, perfume, alcohol or tobacco, is not taxable. Families with children should be aware that the airport in Hurghada is not a separate area of ​​mother and child, but the terminals have small playgrounds equipped gaming tables and slides.
Food
To quench hunger, have a good time or a drinkcool drinks are in a cafe or restaurant, located in the area before and after customs control. They offer traditional local and European dishes, so everyone can find something to your taste.
communication
Hurghada Airport offers post offices, where you can perform a mail, use the telephone or the machine to access the Internet.
Photos Hurghada Airport