New Year in Hurghada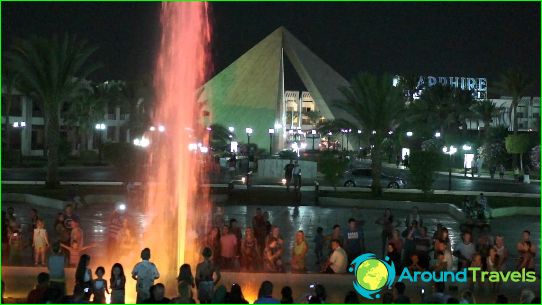 My favorite winter holiday on the golden sand? Elegant Christmas trees under the warm sun? Fireworks on the occasion of the next milestone in the history of humanity with people in beach attire? Do not worry, the world has not gone mad, and it's just a New Year's Eve in Hurghada!
Bronze tan for free
Winter Egypt - a special treat for thosewho decided to escape from the traditional Olivier and snowdrifts. In December and January there reigns a particularly pleasant atmosphere: no burning heat, but it is a sea for bathing and caressing sunshine and temperatures in the range of +25 Celsius allow you to enjoy prolonged air baths.
Divers celebrate in their own way. Dive into the Red Sea in the New Year in Hurghada - a great opportunity to admire its rich underwater world. All those who have not yet decided to learn scuba, find a decent replacement for him: an excursion to the coral reefs in the glass-bottom boat allows us to consider and marine vegetation, and the inhabitants of salt water.
Nile Cruise and disco under the palm trees
The pleasant weather has to the Januaryexciting cruise on the Nile. The great African river to share with travelers pages of ancient history, and the guides talk about the role of the mighty waterway in the emergence and existence of the Egyptian civilization.
Returning from a voyage, you can continue to celebrateNew Year in Hurghada, staging a gala dinner at the hotel, or to book a table in one of the city's restaurants. In spite of the fact that own the new year from the Egyptians comes in September, they are trying to create a pleasant mood of its guests. Shops and hotels, restaurants and clubs flashing lights holiday illumination, elegant Christmas trees adorn the lobbies of buildings and areas, and Papa Noel distributes presents the youngest participants in the celebrations.
In the New Year's Eve hotel staff satisfiedincendiary parties, where you can always find for itself a company like. With the last kick of hours coincides the beginning of fireworks, which compete with Moscow salutes and reindeer Santa's completely replace elegant ships of the desert.
Another tradition of the resort - to celebrate the New Year inHurghada local time for each time zone in Russia and then in Egyptian times. Before reaching the finish line only very resistant to the morning to tell the most interesting of the outgoing regime mates and mark the first morning of the new year at a festive breakfast on the lavish buffet.
Photos of New Year celebrations in Hurghada