Shops and markets in Hurghada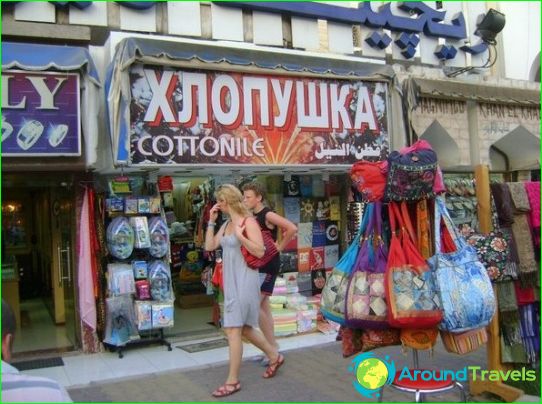 Egypt attracts tourists by monuments of antiquityand the sea. Shopping here is not pampered travelers delights or extremely profitable prices. Stores with brands and fixed price there is almost there. Small shops, street stalls and tables with souvenirs, things made of cotton, beach accessories and clothing - the bulk of the "boutique" looks that way. Traders wring initially inflated in price significantly. But the friendliness, courtesy and ability to negotiate the price quickly return to dizzying heights on the ground. Another secret - the less interest you show to the product, the price will be lower. Maybe better sluggish bargain, smile and walk away, then after you run and throw off yet, and you do me a favor and buy your favorite gizmos.
Popular shopping areas in Hurghada
Sheraton - colorful oriental shopping street witha great lot of shops. Shops open late in the afternoon and work until late at night. The most optimal solution - to be on the street after dinner at the hotel. Famous local shop - "Karkusha". He sells things of good quality cotton bed linen, towels, bathrobes, unpretentious clothes. This is one of the few shops in Hurghada with fixed prices. Bargain makes sense only if your purchase is quite large. Inside Le Pacha Resort Hotel is a boutique Levi's jeanswear. Bargaining is possible here, if you take a few things. Opposite this hotel there is a large store of leather goods Pharaoh. It is possible to choose handbags, belts, jackets, leather shoes, purses. All this is of decent quality, unlike many others goods shops.
Hurghada Marina Boulevard - this areamainly for fashion shopping and wealthy tourists. Stalls with a simple product, there are also, sometimes too respectable people buying souvenirs made of shells or beach towels. There are shops vsemirono known brands, art galleries, luxury restaurants and clubs with European management. There are no touts and merchants traveling behind by tourists asking to buy one or the other trifle. But this is the place for beach party with dancing to the latest music or conversations of a hookah, or a cup of coffee. Also on the waterfront animators entertain guests all kinds of shows - whether it's dancing with fire or incendiary beauties presentation. The children are playing pirates, clowns, magicians. Love karaoke - please, Thai or other exotic cuisine - everything is there to maintain the strength and mood during shopping trips. Located promenade around the corner from the Sheraton.
El Dahar - the old district of Hurghada. Special beauty of it is different, uses bad glory - there are rumors about the danger for blondes in short skirts. All this is nonsense, but the girls dress better modest kerchief on his head from the sun tie. It is a matter of respect for local residents. It seems that this area - one big oriental bazaar. Souvenirs here at affordable prices, fruits, vegetables, and oriental sweets are also very cheap. But we must be prepared for excessive molestation sellers. They can run up to you after offering the goods, grab hands in an attempt to attract attention.
Photos Hurghada stores