Holiday in Hurghada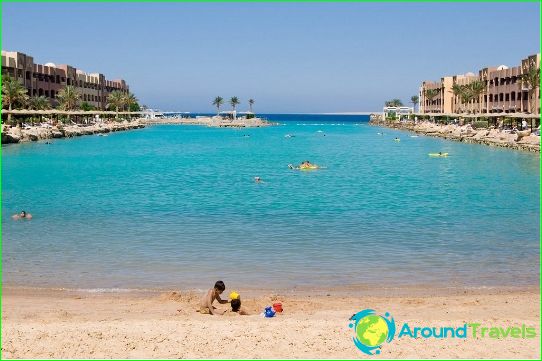 Holidays in Hurghada - a great opportunity to enjoy the warm sea, daytime and evening entertainment, enjoy the rich underwater world.
The main types of holiday in Hurghada
Beach: travelers in Hurghada offers clean, sandy beaches with a gentle entrance into the sea. Couples with children should look at the beach DreamBeach - for them are equipped with a platform on which there are slides, swings, trampolines. Going on a city beach Paradise Beach, you can have a snack in the café, rent a sun lounger, pedal boat and your kids - have some fun on the rides.
Sightseeing: by going on a tour, you can see the Coptic Church, Singing fountains (worth seeing the show with light and music), the palace of "1000 and 1 night" (every day there are educational activities and musical performances), as well as to visit the Sea Aquarium and Museum of the Red Sea . If you wish to organize your trip to the Temple of Karnak, Luxor, the Valley of the Pharaohs, the mountain of Moses.
Active: tour will provide an opportunity to go for a walk on a submarine Sindbad (it drops to 20 meters deep and is equipped with viewing windows), quad bike safaris or fishing on a yacht. In addition, visitors can enjoy surfing, diving, snorkeling, sailing.
Event: trip to Hurghada can podgadat a celebration of music and sports "Russian Wave" (February), the International Festival of Arts "green oasis" (November), Festival of Belly Dance (May), on surfing competitions (different seasons).
prices
The level of prices for tours to Hurghada depends on the season. Despite the fact that the tourist season lasts all year Hurghada, relax in this Egyptian resort is best in spring and autumn.
The resort though it is considered democratic, but pricestours in Hurghada are the highest possible in the autumn, during the New Year and Christmas holidays, April-May, and catch this time profitable at the price offered is quite problematic. If your goal - to save money in Hurghada should go in the summer and in the second half of winter (tour operators often sell tickets at very attractive prices).
On a note!
On vacation, you'll need sunglasses and a cream, cap or hat, comfortable shoes.
Drink water from the tap can not be - it is intendedfor external use only, so it is advisable to rest buy bottled water (it is worth, and brushing your teeth). To prevent stomach upset, do not eat unwashed fruits and vegetables, and drink beverages with ice.
From Hurghada should bring papyrus, shisha,spices, natural oils and cosmetics, Hibiscus tea, bright porcelain plates with the image of Egyptian symbols, statues of alabaster (cat figurines, Egyptian gods, pharaohs). When buying coral, sea shells and the like gifts, be sure to take a check, proof of purchase in order to avoid problems at the customs.
Photos holiday in Hurghada