Tours in Hurghada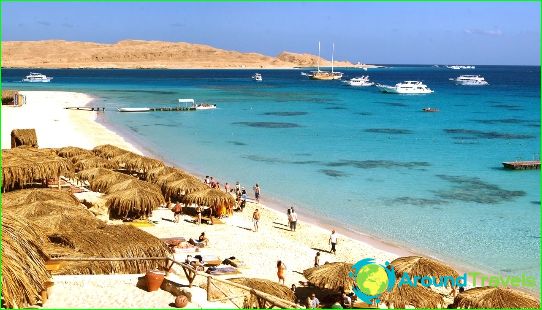 All-Russian People's resort on the RedSea, Hurghada has loved by several generations of traveler. A former village for half a century, home to oil, the city in the second half of the twentieth century began to develop rapidly. It was built dozens of hotels, and thousands of passengers of charter and regular flights rushed to the golden beaches to the warm sea. For Russians, tours to Hurghada - is the ability to inexpensively comfortably relax, diving and gain strength after working days.
Briefly about the importance
Tropical and desert climate of HurghadaIt provides intense heat in summer and pleasant warmth even during the winter months. The swimming season at the resort is terminated only in December and February, and the most favorable time of year to visit Hurghada are spring and autumn. The city slightly cooler than the second well-known resort in Egypt - Sharm El-Sheikh.
When planning a tour to Hurghada, it is worth considering thatHotel pool at the resort old enough, because here was born Egyptian beach tourism. But the beaches in Hurghada, mostly sand, which makes it more comfortable vacation with children. Fans of coral reefs is better to book the hotel on the north of the resort. There are open learning centers diving and the underwater world is much richer and more diverse.
Special attractions in the city is not, but during the tour in Hurghada you can go on a trip to Luxor or Cairo.
The resort has several hotels, which are located on the territory of the water park. That's where most of the family book the tours with children.
In Hurghada has its own international airport, and the journey from the Russian capital is 4.5 hours.
Who does not smoke and does not drink ...
Proponents of a healthy lifestyle is selected toursHurghada to Le Roi Hotel. It opened recently and is famous for its soft climate. It is impossible to obtain alcohol even for money, but the selection of juices, tea, coffee and other healthy drinks is quite impressive. In addition to the fight against drunkenness at the administration guarantee quiet rest of the fair half of mankind. For women in the hotel there is a separate floor and private pool.
However, to become a supporter of a healthy waylife can be in any part of Hurghada. The resort development of the industry of beach activities and tourists for a modest fee akvatsiklah ride and fly over the water on a parachute, admire the coast to the inflatable "banana" or go to sea on a yacht.
Photo