Excursions in Sharm El Sheikh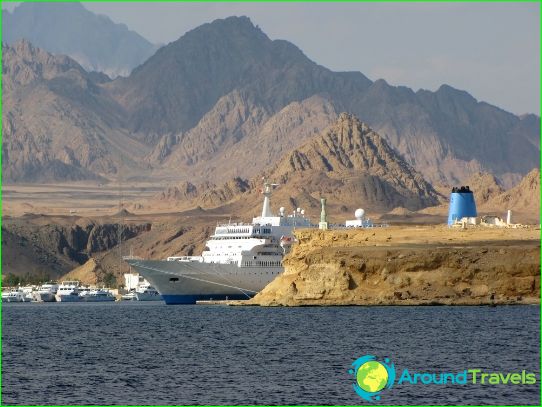 Sharm el-Sheikh attracts many tourists whodream to feel the charm of the exotic. Why this city is one of the most popular? What excursions in Sharm El Sheikh, deserve the attention of tourists?
Sinai, which is locatedSharm el-Sheikh attracts beautiful beaches and warm clear sea. Many tourists dream to fully enjoy a relaxing holiday and go on exciting excursions. Attractions should be noted the monastery of Saint Catherine, Mount Moses and the Coloured Canyon.
Getting acquainted with the sights
So you've decided to start planning excursions in Sharm El-Sheikh? What are the attractions worthy of your attention?
Every tourist must visitSt. Catherine's Monastery at night and climb the mountain of Moses. It is important to be prepared for the fact that the trip would be severe and require physical effort, so do not do without the comfortable shoes. You will need to climb to a height of about 720 meters and overcome about seven kilometers. In addition, the route runs along a narrow path, and therefore the trip is complicated and requires increased caution. What is remarkable the monastery of St. Catherine? First of all, it is a religious center in the valley. It is surrounded by three majestic mountains: Catherine Safsafa Moses. It is important to note that the height of mountains reaching 1570 meters. The tour involves inspection of the relics of St. Catherine and the old icons. Additionally, you will be able to see the burning bush that grows in the monastery.
You want to go on an extraordinary journey? In this case, you can choose a trip to the best jeep in the Coloured Canyon. The program includes visits to unusual market, which is located in Dahab. The market is a collection of shops, each of which deserves the attention of tourists. You can buy beautiful decorations and unusual souvenirs at low prices. Take advantage of the chance to buy the best souvenirs and gifts as well as for himself, and for all your loved ones!
Do you still dream about the thrill? So, it is time to make a quad bike safaris. If desired, you can ride on a camel and a chat with the Bedouins.
Sightseeing tours in Sharm el-Sheikh will be the beginning of love with one of the most amazing and unusual resorts in the world!
Photo excursions in Sharm El Sheikh