Holidays in Sharm El Sheikh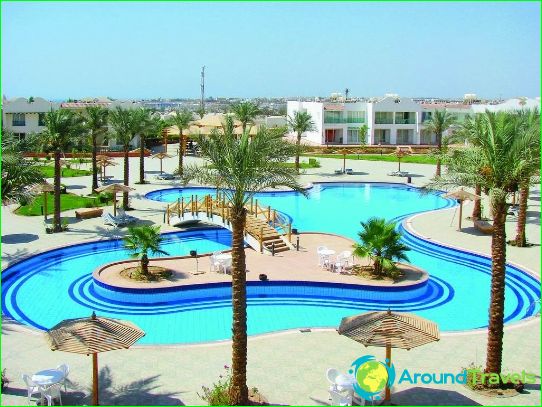 Holidays in Sharm el-Sheikh appreciate lovers of luxurious hotels, active and passive pastime.
The main types of holiday in Sharm El Sheikh
Beach: travelers should visit the beaches in the Bay of Naama Bay, which has a sandy entrance to the sea (with the exception - some areas that do not have time to clean up from the coral due to the adoption of the prohibition of cutting down the law). In addition, the popular sandy beach of the Bay of Sharm El Maya - are available all kinds of beach activities.
Sightseeing: within Tours offers a trip to Ras Mohammed national park (here you will see sea turtles, barracuda, herons, foxes, Fenech) and Nabq. In addition, you will be able to go to the Coloured Canyon, to Luxor and the pyramids of Giza.
Active: You can have fun at the popular disco Le Pasha, in Smashi Black House disco bar. Active travelers should advise to go on an excursion in the desert on camels, play golf, tennis, drive on cards, ride race horses, water scooters, windsurfing, parasailing, scuba diving (at your service - dive centers and local shops where you can buy equipment and various accessories necessary professional and beginner divers). When diving divers meet soft and fire coral, barracudas, napoleon wrasses, surgeons fish, groupers, the Antilles.
Family: parents and children will be delighted by visiting the Dolphinarium, mall Alf Leila We Leila, children's amusement park Fun Town.
Event: a trip to Sharm is podgadat for celebrating Sham El Nasim (spring meet in April), carrying camels Festival (May), and many racing boats (October-November).
prices
The level of prices for tours in Sharm El Sheikh is dependent onseason. Cost of tours in Sharm El Sheikh about 20% more expensive than the rest of the Egyptian resorts, and their increase about 2 times observed during the Christmas holidays. In addition, the increase in the cost of tours in Sharm El Sheikh noted in the high season - September-November and March-May.
The decline in prices is typical for the summer months as in Sharm reigns very hot weather - in this time you can get a very profitable at the price vouchers.
On a note!
Since the barefoot walk on the beach is dangerous Sharma(Almost all of them coral), it is advisable to take a special safety shoes or buy it in place. In addition, on vacation you are sure to have a sunscreen with a high SPF. It should be borne in mind that the clothes should not be worn outside the hotel, bares her back, legs, chest, shoulders, not to mention the visit to the holy sites.
From Sharma should bring amulets in the form of pyramids, camels and scarabs, shisha, papyrus, oriental spices, essential oils.
Photos holiday in Sharm El Sheikh