Attractions in Sharm El Sheikh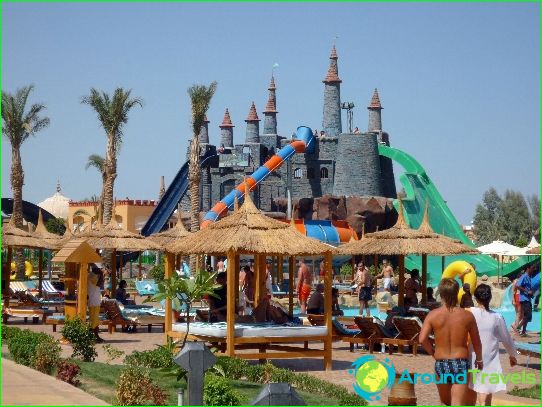 Sharm el-Sheikh - is perhaps one of the mostknown and popular Egyptian resorts. Although, having got here and saw everything with my own eyes, you would think that it is a real state within a state, which has the most indirect relation to the rest of Egypt. At the disposal of the tourists there are numerous hotels, shopping centers, nightclubs, restaurants, of which actually consists entirely of this resort city. Attractions in Sharm el-Sheikh, open all year round, so that, no matter what time of year did not come for the guests, they are sure to receive a rich program and unforgettable impressions.
Amusement Park Fun Town
Number one on the list of the best places for entertainmentSharm el-Sheikh. Delight especially those who are planning to visit the traditional amusement park rides, carousel, roller coaster and see colorful theatrical performances. So in Fun Town necessarily need to look to family vacationers.
This amusement park is located on the territory of Sun Shine Hotel (Naama Bay), and the entrance is free. We'll have to spend only about $ 10 on the road.
Aqua Park in Sharm El Sheikh
According to the majority of tourists (if you believereviews) differs best value for money. In the water park a tourist will find 9 swimming pools of different depths; More than 40 slides; about a dozen water attractions.
In addition to the ticket price also includessnacks and soft drinks, so you should definitely look into. Although before you climb on slides such as the "black hole", "kamikaze", "tsunami" or "free-fall" is not particularly better to fill the stomach. And then, as they say, who knows what.
Entrance ticket (both children and adults) is relatively inexpensive - $ 20, and the water park from 9.00 to 21.00.
Soho Square
Another famous place among tourists. There is a conglomeration of the city's best shopping and entertainment centers. Rinks with artificial ice, rock climbing walls, cinemas, shopping - in this corner of the city you can find anything. Domestic same tourists will appreciate the fact that the films shown in cinemas and conducted in Russian. So, having carefully studied the chart shows, can be accessed on the Russian-language session.
There are at Soho Square and its own website where you can find a detailed information about the place http://www.soho-sharm.com/.
Photos attractions in Sharm El Sheikh