Season in Sharm el-Sheikh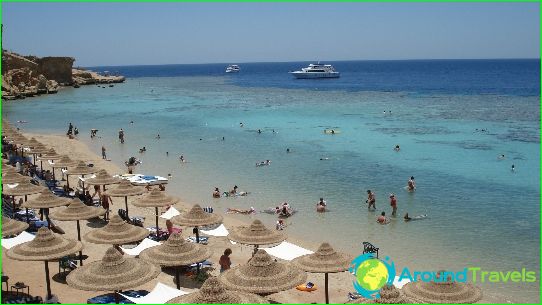 In Arabic, the name of this resortcity ​​in Egypt means "bay Sheikh." Weather on its coast forms not only the geographical latitude, and the Sinai Mountains, protecting beaches Sharma from bad weather and strong winds from the northwest. Sustainable beach season in Sharm el-Sheikh begins in early April and lasts until the end of November.
The best time to holiday
High season in the Egyptian resort whenSunbathing is especially nice, and the water temperature in the Red Sea looks the most comfortable, will be launched in mid-spring. Thermometer is fixed at this time on the land 27 degrees and + 25 - in water. At night, and late in the evening is cool, so a windbreaker or light sweater should take place in a suitcase traveler.
The second wave of the best seasons inSharm el-Sheikh - is the middle of the autumn calendar. Early October brings some easing of the heat and the temperature of summer leaves 30-degree range. The water stays warm and comfortable for swimming and diving. Her temperature values ​​fluctuate around 26 degrees.
The most thermophilic
Many travelers leave is not the same as fortime with the best holiday season, but it does not mean that fly to Egypt is not worth it. And at the height of summer you can comfortably relax, if you follow some important rules. Since the summer season in the Sharm el-Sheikh - is very hot, it is important to use protective creams with high factor, and not be in the sun too long. The air temperature on the beaches of Sharm in July and August can reach 40 degrees by noon, the water is heated to 30, and does not bring the desired freshness, so sunbathing is best in the morning. It will be possible to avoid unpleasant consequences for health and get the perfect shade of the famous Egyptian sun.
Christmas at sea
Christmas vacation or winter holiday in Egypt -it is an opportunity to change the situation and get a tan in the middle of January Russian frosts. Weather in Sharm el-Sheikh, allowing even in the coldest time of year to enjoy the warm sun, diving or just splash around in plenty in the Red Sea. Daily temperature fluctuations in the air at this time is very significant, so that parties will need warm clothing. During the day on the beaches reaches 23 degrees the temperature, and the water is heated to 20, making water treatment refreshing, but quite comfortable.
Photo