Water parks in Sharm el-Sheikh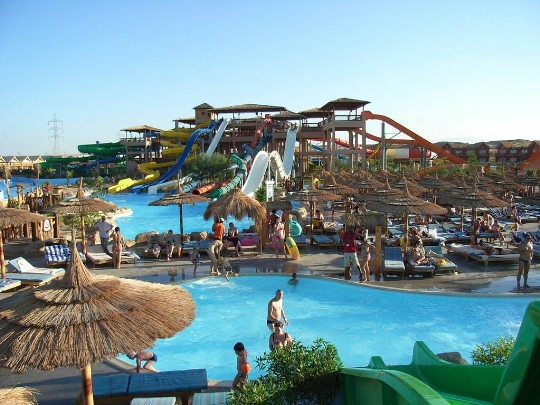 Water park in Sharm El Sheikh has a lot to offer, both couples with children and youth companies (take into account the interests of all ages).
Water parks in Sharm el-Sheikh
Waterpark "Cleo Park": here you will find the "turbulent river", a children's pool, a roller coaster, "The award of the Queen", "SolarBoat", "Snake terror", "The Lost Pyramid" (on the board riding on an inclined tube), a massage parlor, a souvenir shop. It is worth noting that for the descent with some hills here are given special mats and circles, and you can eat in one of the cafes if necessary. Adult entrance fee is payable at the price of $ 30, and children (from 4 years) - $ 10.
Waterpark "Albatros Aqua Blu": He is famous for 32 slides, in particular, the "Tsunami" and "Niagara" (12 are designed for younger guests), "lazy" river, on which you can sail on an inflatable mattress. If desired, you can play water polo and aqua aerobics class on a visit. Important: This water park with slides down is possible only in special quarters and floor mats, and children are prohibited, "feel" some attractions even if accompanied by adults. As for food, it is organized on the principle of fast food - then you can eat a hamburger or pizza. Entrance fee: adult ticket price - $ 30, and children (6 years) - $ 15; for rent locker you will be asked to pay $ 3 + a deposit of $ 10, and for the rental of towels - $ 2.
Travelers interested in a hotel withwater parks, you should look at the "Sonesta Club", "Three Corners Palmyra", "Sunrise Tirana Aqua Park" (has 8 outdoor pools, a wave pool, 12 water slides), "Rehana Sharm", "Sea Club Aqua Park".
Water Activities in Sharm
From water activities for you in the priority ofdiving? The most popular sites are Ras Mohammed (when immersed in this nature reserve you will have a chance to see wrasse Napoleon, sea turtles, colorful soft corals, ship, sunk in 1981), Thistlegorm ship (on his research are invited divers with experience - immersion occurs 30-meter depth in a fairly strong current), the Strait of Tiran. The average dive from the boat cost 45 euros, and night diving from the coast - 40 euros.
If you are interested in a beach vacation,look at the beaches of El Fanar (conditions for snorkeling, and if you wish you can go for a walk on a glass-bottomed boat) and Terrasini (diving, snorkeling, foam parties, discos are held on the full moon Full Moon Party). Important: to visit local beaches can not do without special rubber slippers, otherwise you can injure the feet of the sea urchin or reefs.
And you can attend the 45-minute show with marine animals if you wish - you can do it in the dolphinarium "Dolphinella".
Photo