Giant hospitality - Rixos Sharm El Sheikh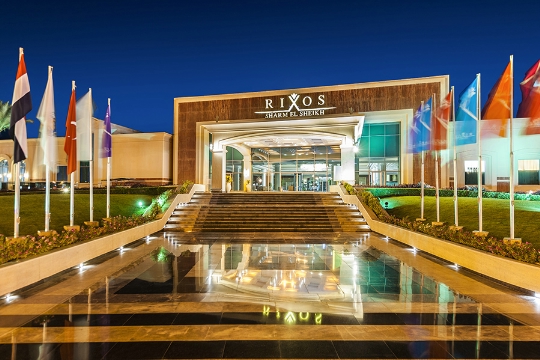 Let's talk about the rest of Egypt. Lovers of travel know that Sharm El Sheikh is the most developed and attractive tourist resort with a wide choice of hotels offering its visitors all the favorite system "all inclusive", which was so dear to our hearts. Where the hotel is located, and all kinds of categories, from one year to cordially welcomes Russian tourists and not only. On one of the international "Giants hospitality» - Rixos Sharm El Sheikh - and is my story.
This spring, when I was planning my nextvacation, I visited a great desire to devote your precious time and beach holiday by choosing from the options, I stopped at the Rixos network. In general, the name of the network for many years speaks for itself, these hotels are popular in many countries. Friends and then told me that, in relation to prices, excellent quality of service. Perhaps it's time to check out and I!
What can I say, the hotel is really verybeautiful, happy fulfillment of its architectural and scenic views. The hotel has incredible size park, where it is very pleasant to walk in the evening. Lovely, well maintained and very clean beach will please fans of sunbathing in a relaxed atmosphere on the shores of the Red Sea, and for the rest, the hotel features 11 swimming pools, which are located boudoirs, saving from the midday heat, 3 water slides, and an infinite number of restaurants and bars. Hotel will not leave hungry. Rixos chain positions itself as one of the best parts of various specialties, where the chef prepared to meet different taste preferences of gourmets from all over the globe. What can I say, not unfounded statement. In restaurants, the system "a la carte" for you a large selection of dishes from different cuisines directions: Turkish, Italian, Indian, International, Japanese, seafood restaurant, an Egyptian national ... head spin. In the rush to try all that is offered, it is possible to move from restaurant to restaurant all day long and never get to the beach.
As for the hotel staff, really,people who work here, create an atmosphere of comfort and celebration, whether it's high level of professionalism or the infinite set of the best of human qualities, but the lack of attention does not have to experience. However, as excess. I love that feeling when you are granted your thoughts, but help is always somewhere nearby.
Perhaps we should say a few words aboutentertainment. Animation involves DJs, dance programs, entertainment at any time of the day. Boredom does not have any adults or children. For tourists, families with children, a kids' club Rixy was established, where young travelers waiting for an adventure in the created especially for them a colorful world. Spend all the children's activities by qualified personnel only, so happy the parents can safely leave their children and devote time to themselves and the other half without fear that their child will be left without supervision.
You can not miss the amazing diving programit is in Sharm tourists come to see the beauty of the Red Sea, which I could use, too. For those who first decided to dive, there is a diving school. Well, if you did not dare to, the fins and mask for snorkeling, too, can be obtained without problems. Other leisure activities are also present: a fitness room, water sports, tennis, Pilates, volleyball, soccer (beach views). SPA program also will not leave indifferent: hammam, massage, steam room, beauty center - all right. Of course, the most important advantage, which has already been mentioned earlier - is the staff.
And if you still want a little moreactivity, boasts a prime location in order to get somewhere else. At the reception you can offer an exit route to the accompaniment, or tell you how to get to be located near Nabq bay (400m) and the center of Naama Bay (22km), where the delightful cafe with aromatic hookah and the best clubs in Sharm El Sheikh.
Photo