Holidays in Egypt in September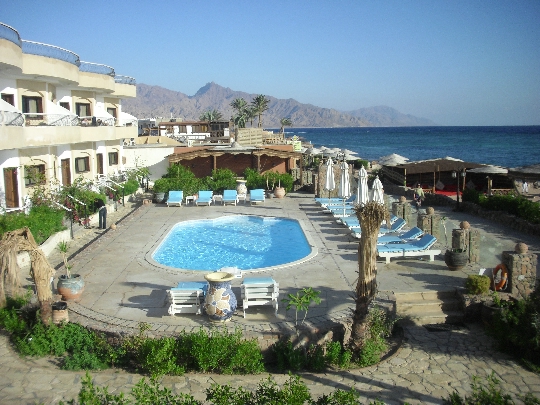 No one will undertake to say that in thisNorth African country is the most attractive for tourists. Many sunny days and perfect conditions for diving in the Red Sea tourist fetishes - the great pyramids or cruise on one of the longest rivers of the planet. One thing is clear to everyone, holiday in Egypt in September and another month will not pass boring, leave a bright trace in the tourist heart.
The weather in early autumn
Finally, the velvet season starts to opendoors for families with children, people aged as heat decreases with each passing day and the weather is becoming more and more comfortable. But the sea water is still very warm and create a magical mood.
In Sharm el-Sheikh, water thermometer shows +28 ° C, in Hurghada +26 ° C, but the air temperature is high, below +30 ° C anywhere thermometer does not fall.
The most popular souvenir
The whole world is still grateful to the ancient Egyptiansfor the invention of papyrus, the first material for the letter, which gave an impetus to the rapid development of written language. And now this little piece of papyrus leaves in suitcases and backpacks, then carefully hung in the Canadian living, Paris spalenke, or decorated with a carved picture frame resembles the Russian pair of well-spent vacation. No matter what month, no tourist visited Egypt, papyrus always find his master.
Resort resort
It is this name was Naama Bay,which is part of the famous Sharm el-Sheikh. Tourists who chose this place for a holiday in September, in the early days can get confused by the many shops, cafes and restaurants, night clubs and hookah. Most of the daylight hours, vacationers will spend, no doubt on the coast, where a specially cleared the bottom of coral delicate legs coming guests.
Children rest
September - a time when you can travelin Egypt with the children, but not with the smallest, until the heat is kept. In order to make their stay fun and memorable, it is necessary to go to one of the many water parks. For example, in Sharm el-Sheikh is the institution has 44 slides, from simple, with a small slope to the breathtaking.
At the same resort delights childrenvisit the nature reserve of Ras Mohamed. Clear water allows you to see the pack of the smallest fish, mangroves, on the contrary, can be seen from far away and do not hide. Pending a miracle can go to the magical bay. According to the beliefs of the locals, he takes the desire, need only dip into it with his head.
Practical Tourism: Egypt
Photos holidays in Egypt