Shopping centers and markets of Alexandria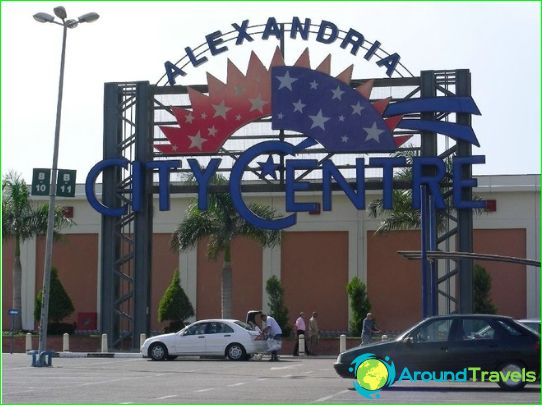 Alexandria - Egyptian city, is in placethe confluence of the Nile in the Mediterranean Sea. City-forming areas of the economy - the port and its associated trade, as well as a bank, an industrial sector. Tourism makes a considerable contribution to the budget of all levels of the country. Alexandria - Egypt's second resort significance. Vacationers vote money for the excellent hotels, sandy beaches under the sizzling sun at times, historical attractions the time of Alexander the Great. With regard to income from shopping, in this area of ​​Alexandria is where to develop. The main items which bring tourists from a trip - souvenirs.
Popular outlets
Ramleh - area of ​​the city, where the rushvacationers who want to spend their money for the benefit of the economic prosperity of the city and at the same time enjoy the East Bay waterfront. Quay was named after Cornish. To adjoin bustling shopping Tahrir Square, and Arabi Saad Zaghlul. Saad Zaghlul is considered an area of ​​high fashion. It concentrated the most expensive brands boutiques. In Ramleh area is the most famous shopping center of Alexandria - Downtown. The second of its name Wust al-Balad.
Locals prefer shopping center GreenPlaza. It is interesting arrangement of the open-air shops. Entertainment for the billiard table and the bowling lanes distinguish this from the other mall.
Alexandria City Center exceeds the sizeDowntown, conveniently located near the city center. Fans rest in the shopping malls to attract as San Stefano Grand Plaza Mall, Vataneya Grand Mall, Maamura Plaza Mall and another with five centers.
International Language Bookstore - Bookshop with an extensive literature in English. The locals do not go here. So book gourmets can choose their books to the soul in peace and quiet.
The Attarine area near the amphitheater timesThe Roman Empire is the Arab market Souk El Attarine. This should go on the hunt for ancient bagatelles. But if you're lucky and the pile of clothes, jewelery, papyrus, cats of various materials to be found something valuable, it is necessary to take care of permission to transfer historical relics. Bazaar itself does not disappoint in the concept of a traditional eastern market - the narrow intertwining streets, distinctive flavor in the air, shops, bursting from hookahs, jewelry made of gold and silver costumes for belly dance, Muslim clothing.
Photos of Alexandria shops