Taxis in Egypt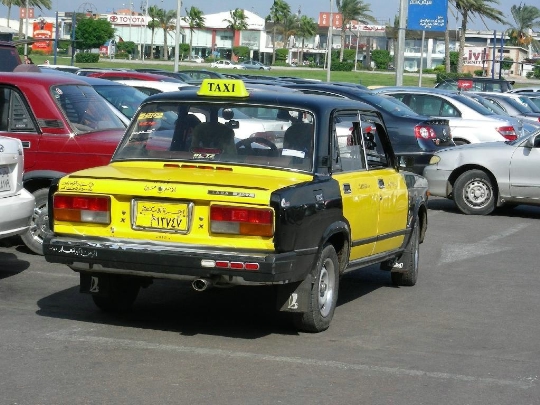 Many Russian tourists have already stocked vouchersSea, are now trying to find out as much as possible about the future resting place. In this regard, the North African resorts for a long time and are well understood, and therefore rest, and familiarity with the pyramids, and even a taxi in Egypt more often than not disappoint.
The most popular resort
The famous Hurghada welcome at eachguest, regardless of what country or part of the world he had come for the sea, sun and pleasure. In addition to recreation on the coast, many tourists tend to more actively explore the city, its sights, the beautiful surroundings and retail outlets. When it comes to returning to the hotel, the best means of transportation becomes a taxi.
Cars involved in carting at this resort,You can learn from a distance, they are painted in luscious blue and yellow colors. So far, few Egyptian taxi drivers can communicate in English or in Russian, so the easiest way - to present a business card of the hotel stay, or to show a point on the map, you can use the phone GPS-navigator.
Taxi drivers, who are on duty at the hotel, uniquelyinflate the cost of the trip. It is better to move a hundred meters from the hotel, in order to reduce the cost of travel to third. You can take advantage of, so to speak, a classic of the genre - to cause the machine over the phone by calling one of the local companies:
Marsaalam - +20 1 010 98 4545;
Taxi Rotana - +20 100 922 3708;
Safe & Reliable Taxi - +20 19 104 8745.
The exact fare when boarding determinedifficult, as various components are taken into account. Tourists to be cruelly deceived calculating the taxi driver, it must be remembered that the average cost of a trip to Hurghada 10-15 EGP. If you want to get to the opposite side of the city, the trip price is increased to 20 EGP. The most expensive transfer, of course, from the airport to the city center - about 50 EGP. While most tourists come to Hurghada organized and taxis are not required.
Nuances Egyptian taxi
Some machines are not equipped with meters, pricetravel contract, with the taxi driver a priori overstated it a few times, hoping for simplicity and gullible tourists. As a result of negotiations and bidding amount may change significantly in favor of the tourist.
It is necessary to stock up a little money in the localcurrency before the trip, otherwise you'll have to say goodbye with a large sum ever since the date will not be. The only thing that can scare the Egyptian taxi driver - a promise to call the traffic police.
Photos Taxi in Egypt