Excursions in Luxor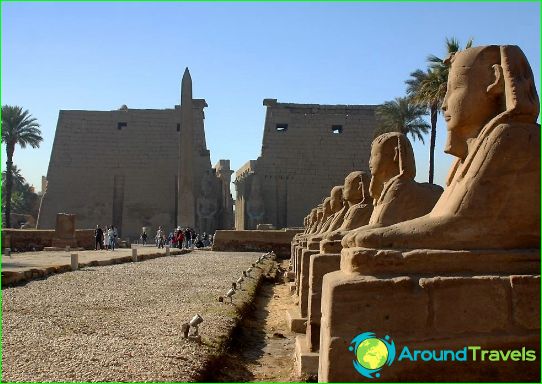 Luxor - it is the most visited city in Egypt, herewhy tours in Luxor - an integral part of the local recreation. Relax in Luxor can be affordable, as evidenced by the numerous reviews.
Attractions Luxor
The main attractions of Luxor, which you need to see while on holiday in this great city:
The valley of the pharaohs. In the famous "Valley of the Pharaoh" is about forty tombs of the pharaohs. It is in this place and found the tomb of Pharaoh Tutankhamen. All the tombs were cut into the rock. This was done in order to hide them from prying eyes. On the ceilings and walls of tombs can be seen colored, bright pictures that tell about the life and deeds of the deceased.
Colossi Memnosa. Colossi Memnosa called funerary temple, which was erected in honor of the god Amon-Ra. Now you can only see two statues that are left of this ancient temple. Giant statue of Amenhotep have a height of 20m. Imagine, every foot of the statue to 2 m long and 1 m thick.
Mummification Museum. This unique museum, the only one of its kind, more of these all over the world you will not find in it kept human and animal mummies. Around the museum there are about 150 mummies. It is located right on the Corniche. This museum will acquaint you with the art of mummification.
Temple of Karnak. The most impressive place of the museum - the column web Pharaoh Hall I. All the columns are decorated with colored reliefs. On the south side of the temple is a sacred lake. On the shore of the lake is once considered the inhabitants of Egypt hugest sacred scarab beetle. This temple is similar to the whole city, which consists of three central temples.
Temple of Luxor. This ancient temple is located on the banks of the Nile. This sacred place where makes many ancient Egyptian rituals. The most interesting archaeological finds, which can be seen in the temple - sphinxes, two colossal statues of Ramses and obelisk, made of pink granite.
Temple Ramesseum. This memorial temple dedicated to the approval of the immortality of the pharaoh Ramses II. However, to date, this temple is the extensive ruins. The creators of the temple made the biggest mistake by building on its territory, an annual Nile flood.
Go on sightseeing tours in Luxor, and you get a lot of positive emotions and you will see many interesting things. You looking forward to the mysterious Luxor!
Photo excursions in Luxor