The best restaurants in Tallinn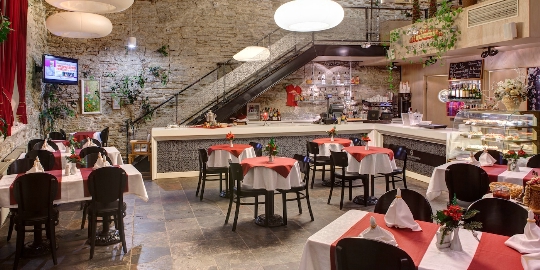 Any tourist who first arrived in this orother city interests and legitimate question except for sightseeing or shopping - where you can eat. The best restaurants in Tallinn are ready to prove their guests that they are not only good food, but also professional service.
National dishes
To try Estonian cuisine, the first thingWe need to go to «MEKK». The best restaurant in Estonia with a good menu and dishes from organic products. Meals are prepared according to old recipes served in the Estonian legendary «Olde Hansa». Located a restaurant in a medieval merchant's house and everything in it is styled with this historic time. This traditional restaurant in Tallinn - this is «Kuldse Notsu Korts». There fed pork with cabbage, mushroom salad and sausages. To wash down all necessarily need to Estonian beer.
world cuisine
Italian Restaurants: «Coccodrillo»; «Controvento»; «Entrecote».
A variety of international cuisine is served in the «Enzo», «D.O.M», «Dominic», «Cru», «CityPlatz» and «Chedi». All these restaurants are surprising not only dishes from around the world, but also their interesting variations.
Chinese food places offer such as the «China Inn», «Asian Fair», «Asian Aroma».
There are in Tallinn and Russian institutions, for example, "Balalaika", "Cock", "Natasha" and «Caf Pushkin».
Georgian cuisine is best to try to «Argo». Here a stunning barbecue and wines are worthy of all praise.
Coffeehouses
Tallinn is famous for its cafes. Here, a huge number of them, and what could be better than to enjoy a good coffee and fresh pastries, while admiring the ancient streets. Stands go, for example, in «III Draakon». This is a very romantic restaurant in the medieval style. Old cafe XIX century «Maiasmok» offers visitors not only the liquor and coffee, but also the traditional marzipan Tallinn. In «Caf Josephine» bright interior, and virtually all desserts with dark chocolate. For French croissants and pastries should be sent to «Bonaparte kohvik», and as many as 12 varieties of coffee are presented in «Gourmet Coffee».
Bars with a "live" music: «Von Krahli Baar»; «Rock Cafe»; «Kolumbus Krisostomus».
Arriving in Tallinn, and I want to stay hereforever to leisurely walk through the beautiful streets and enjoy life. The incredible atmosphere of this city just requires time and forever in love with him and come to visit as often as possible.
Photo