Tallinn - capital of Estonia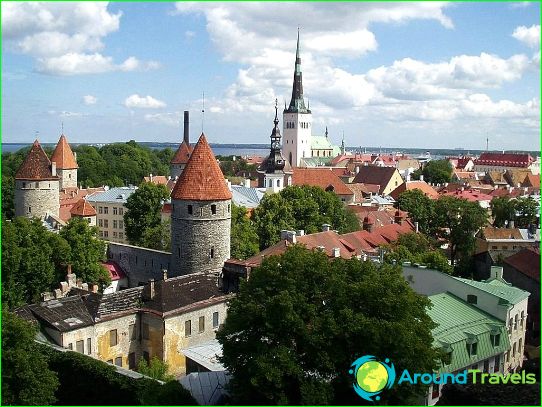 The capital of Estonia, Tallinn - city historyIt spanning 8 centuries. It can be compared with the old casket, the lid of which collected a lot of interesting things. You will find antique and medieval streets, and familiar to our sight the outskirts of the provincial town of conventional, built-up five-story building typical.
It was in Tallinn for years to shoot the scenemovies, where the events took place in the closed for us in Western Europe. It caught the dog of the Baskervilles London detective Sherlock Holmes and Queen rescued suspension famous French musketeers.
Town Hall Square
The area is the center of the Old Town, virtually did not change their appearance. It is exactly the same as a century ago. Cobbles, sharp roof, gothic in the inscriptions - Vintage blowing everywhere.
The area serves as the starting point of manyexcursions. Here you will see a bridge firmly infused Estonian "zero kilometer". The building of the Town Hall and the pharmacy - the ancient inhabitants of the area settled here 600 years ago. There is a legend that in this pharmacy and the prescription of the famous Estonian marzipan was created.
Old Tallinn
The first stone in the foundation of the city was laidDanish knights. And the historical part of the city is under UNESCO protection. This "penny" became focused throughout eight hundred beauty. Narrow streets, old stone blocks, orange tiles on the roof - this is the Old Tallinn. High walls surrounding this part of the capital, once defended him from his enemies, and now does not save a piece of history from the noise of modernity.
Walk through the Old Town of Tallinn takes you intodistant XVI century, and you do not even need to turn on your imagination. Just a leisurely stroll along the echoing pavement, look in the souvenir shops, and will certainly have a cup of coffee, which will be added to a drop of liquor Vana Tallinn.
Virusskie gates
They are the beginning of the busiest streetscapital - Viru, walk through that will lead you to the famous Old Town Square. Virusskie gate is also called the gateway of time because they share Tallinn into two parts: the modern and the medieval. A pair of round towers, dating from the XIV century, defending the drawbridge. Later, a third was added. Here are all together they are known as Virusskih gate.
On the hill, once part of the former gate, was defeateda park. There are many secluded villages where courting couples can spend time together. And because the hill began to call Musimyagi that means Potselueva slide.
The modern world does not produce such highmoral behavior requirements, but still there is a legend that if you kiss on Musimyagi, then your pair of long waits, and most importantly - a happy life.
Photo