Christmas in Tallinn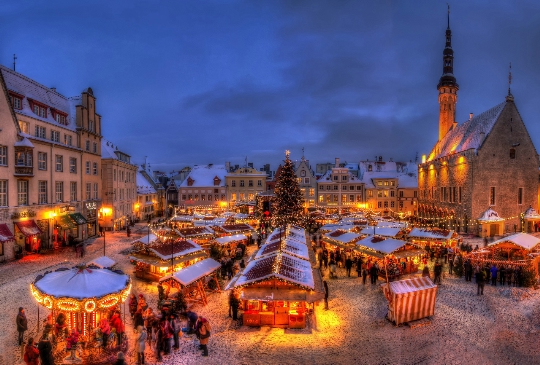 The name of the city is translated in different ways, butthe most suitable for him - "winter city". And though Tallinn's great any time of year, winter is beautiful ethereal, magical beauty. Meet Christmas in Tallinn - a great success.
When soydёsh the train, in the winter poignant airBaltic hit in the face, and in the sky, on the hill Toompea open eyes, surrounded by thick walls with many towers. And the highest of them - with the Tall Hermann Estonian flag on top, boldly-fun waving in the wind.
What to see?
Old Town, conventionally divided into upper(Vyshgorod) and Lower, a small and quite compact. Circumvent it can slowly for several hours. On the way to meet a lot of cozy cafes where you can rest, have a cup of coffee with a glass of liqueur «Vana Tallinn», and continue their journey.
To begin better from the observation deck of Vyshgorod,cover look fabulous panorama of the city with tile roofs, towers, church spiers and the endless expanse of the Gulf of Finland. And enough to enjoy this beauty, go down to the Lower Town. And if Vyshgorod, with its impregnable fortress walls could be called the heart of Tallinn, proud and rebellious, then his soul, freestyle and enterprising, is in the lower town, hiding in alleys, cozy courtyards, beautiful houses in the times of the Hanseatic League.
Wander through the lower town under any planuseless and attractions at every step, and the narrow streets will certainly lead you away from the originally intended purpose, but not necessarily will lead to the Town Hall, which is decorated with spire of Old Thomas, a staunch defender and a good symbol of Tallinn. A stretched Christmas market on Town Hall Square. The noise and bustle of the fun reigns in saturated aromas of mulled wine, candles and juniper frosty air.
What to buy
Shopping is best to do at the fair. All products - domestic production, mostly handmade. Knitted woolen little things from the island of Saaremaa, amber jewelry, children's toys made of wood and fabric, a great many pretty unnecessary, without which it is possible to do, but to them as something fun.
Christmas Eve
When the city descend night haze, myriadslights sparkle on the facades of houses, shop windows, and the narrow streets of old Tallinn drowned in glowing radiance. If you suddenly freeze, be sure to check out the bar "Carolina", go down to his basement soaked spicy aromas of cinnamon, cloves, nutmeg, and warm the body and soul with hot mulled wine.
A Christmas to try to meet the famousPeppersack restaurant near the Town Hall. Located in one of the oldest houses in Tallinn with a good kitchen and unique interior of the Middle Ages, it will add more sensation you wanderer, lost in the labyrinth of time.
Photo