Shops and shopping centers in Tallinn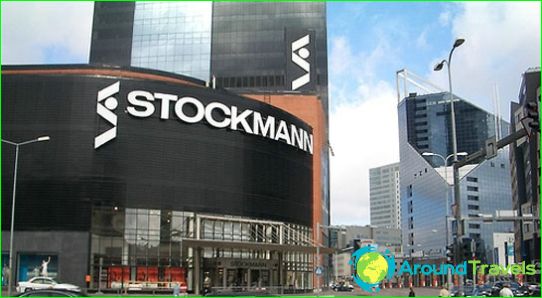 To the delight of lovers of shopping in recent years,Tallinn has sharply increased the number of outlets. In the city center opened a few large shopping centers, where you can earn good profit local and European goods.
Locals do not advise its guests in searchgood shopping climb far into the sleeping areas or go out of town, because the prices in the city center and at the periphery of a little different. Of course, there is no need to buy key chains, figurines and other small things souvenir stamped with street stalls in the city center and prefer shopping malls or markets where the purchase of memory will cost cheaper.
The medieval houses of the Old TownA variety of boutiques with expensive brands of clothing and jewelry:. Armani, Versace, La Perla, Hugo Boss, Max Mara, etc. Here you will find antique shops, art galleries. Numerous shops can be purchased from ceramics, glass, souvenirs, leather, wood, manufactured in one piece. Warm knitted socks or mittens with Estonian ornaments are also popular with tourists. Masters in the courtyard you can see firsthand how to create a masterpiece of folk artists and choose something to remember.
If you prefer to buy as aSouvenir sweet note to the factory Kalev and its bars of almond marzipan. This is the oldest chocolate factory in Estonia, she is already about two centuries. Company store is located in the Rotermann quarter. You can not only buy goodies and sweets in the workshop to try to make their own hands.
Shopping centers in Tallinn
Stockmann - the well-known supermarket networkRussian and European network. Located in the city center, .privlekaet demanding quality products and customer service. Find here can be male, female and children's clothes and shoes, accessories, jewelry, home appliances and electronics, sports equipment.
Viru Keskus- department store known for itsnumerous show programs for visitors and a fashionable interior. Here are the expensive brands, but their prices are lower than in Moscow. Located on Viru Square.
Kristiine Keskus - shopping and entertainment center. Here you will find about one hundred thirty stores democratic brands: Benetton, Levi`s, Hilfiger, Denim, Monton, Motivi, Timberland, New Yorker, Pepe Jeans, Sanga, Camel. Related services represented by a small beauty salon, catering establishments, a playground for children.
Rocca al Mare - another shopping and entertainmentcenter, is little different from the previous one, is far from the center. The big plus is the presence near the Zoo and Ice Palace Premia. So, while my mother devotes time to shopping, rest of the family will not be bored.
Shops are mostly open from 10:00 to18-00 every day except Sunday. In large shopping centers weekend there, and they work up to 21-00. The big sell-off in Tallinn occur twice a year: after Christmas and in the middle of June.
Photo shops in Tallinn