Estonia Beaches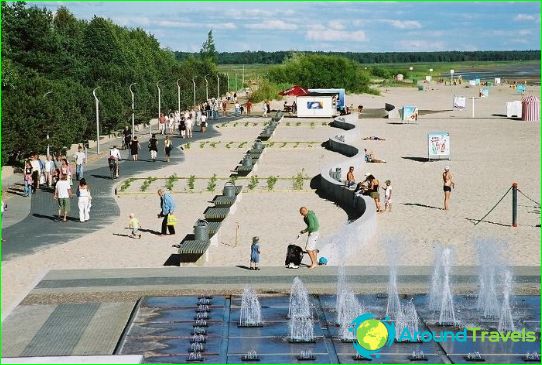 Estonia - a country with a rich culture,a comfortable climate and a well-developed tourist infrastructure. Advantageous location (almost half of the country bordering the Baltic Sea, Gulf of Finland and Gulf of Riga), makes this country very attractive for tourists, lovers of swimming, sunbathing. The huge coastline, numerous islands and peninsulas have a huge demand among tourists. Thanks to a reasonably good climate, beaches in Estonia, never empty.
Relatively affordable prices for tours to Estonialured here a wide variety of travelers. Someone is coming to visit in the forest, enjoy the beauty of the wildlife, but most people still prefer to go to the sea and see for yourself the best sandy beaches in Estonia.
In Estonia, a lot of good beaches. They can be divided into two groups: formal and informal. But they all share one thing - cleanliness and good infrastructure. The most favorite among tourists are the beach of Haapsalu, Pirita beach, Pagila, Pärnu, Vääna-Jõesuu beaches Rahunim and Lohusalu.
Most popular beaches
Beach Pärnu. Since ancient times, this beach is famous for its cleanliness, good facilities for the whole family, the extraordinary beauty of nature. This place is equally loved and guests of the republic, and local residents. Here is the so-called summer capital of Estonia, which is not "shy away from" no tourist.
Beach Haapsalu. For some reason this beach is a favorite for Africans. As well as all the other beaches, it is clean, beautiful and has a comfortable water temperature (18 degrees).
Pirita Beach. All beaches in Estonia - sand, but it is the most enjoyable on pyrite sand. Besides, here there is a yacht center which makes this beach is particularly popular among tourists.
Beach Regila. Famous for the fact that in the place where he is located and delights visitors with its beauty, in the years of World War II, there were battles with the Nazis.
Pirita, Pärnu and Narva-Yyesuu- these beaches arein a separate group. That's because they have set aside areas for nudists. Parnu Beach, but only for women. But they are all well equipped, some are even rides. In addition, there is an excellent site to practice beach sports.
Estonia Photos beaches