Traditional cuisine in Estonia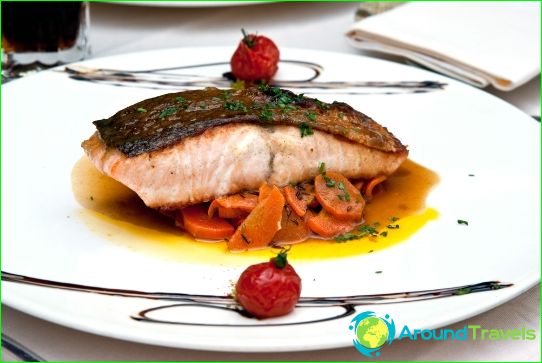 Food in Estonia is characterized by the fact that the local cuisine is very diverse, and it had a significant impact culinary traditions of Germany, Russia and Sweden.
Despite the fact that there are no restaurants withMichelin stars, local food places have a high enough level. In support of this may make the fact that the Estonian chefs regularly invited to take part in the prestigious international culinary competition - Bocuse d'Or.
Food in Estonia
Estonians Diet consists of meat, fish, dairy products (milk, cheese, cottage cheese, sour cream, yogurt), vegetables, legumes, cereals, soups.
Many Estonian dishes cooked nota steam bath, and a liquid medium - water, milk, kvass, milk and sour cream and milk-egg mixture. As for fried foods, they are prepared on the basis of milk and flour and milk and sour cream mixture.
In Estonia, it is worth trying zrazy; caraway cheese;Estonian ragout of braised pork with barley and sauerkraut (mulgikapsas); pate from meat of wild boar, deer or bear meat; Pork Jelly (Brawn); blood sausage (verivorst); smoked salmon (suitsulohe); dish made of Baltic herring, bacon and cream (silgusoust); pork chops, fried; pig's trotters with peas; pickled herring; Blueberry soup with dumplings; soup with beer.
A sweet tooth can enjoy chocolate with nuts, cakes, candies with mint, coffee, nut and liquor fillings.
Where to eat in Estonia? At your service:
cafes and restaurants where you can taste local dishes and other cuisines (open in the country, Indian, Chinese, Italian restaurants and even a medieval kitchen);
cafes and street stalls with a grill where you can enjoy smoked salmon and succulent sausages;
pizzerias and fast food restaurants.
Drinks in Estonia
Estonians are a popular drink tea, coffee, "Vanna Tallin" (liqueur flavored with rum), beer, hoogvein (hot wine with spices).
Beer lovers must try the local brand - A. Le Cock and Saku. Beer, as well as other alcoholic beverages are served at the café, bars and pubs.
Gastronomic tour in Estonia
you can go to Estonia If you wish to"The festival of good food" - you will visit the Culinary Fair (the fair, you can buy products that are not sold in supermarkets), competitions in cooking, fishing competitions.
Food lovers, regardless of their financialmay be able to easily travel to Estonia for the local cuisine, and all because the dinner from 4-5 meals at local establishments will cost them 2 times cheaper than in other EU countries.
Photos of Estonian national dishes