Estonian Railways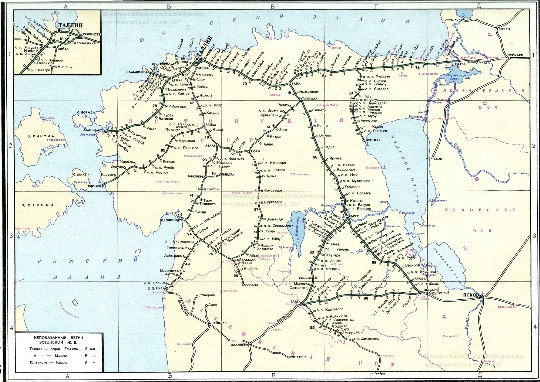 All railways pass through EstoniaTallinn. From this city trains in such popular places of the country, like Narva, Tartu, Rakvere and others. The system of rail transport is very well developed and in line with European standards. With Tallinn Station depart trains that follow the suburban areas. The first train began to move through the Estonian territory in 1870 after the opening of the Baltic railway between St. Petersburg and Paldiski (Baltic Port).
State railway sphere
Maintenance of railway trains Estoniathe company does Elron. In Tallinn you can get out of Russia, riding on a train from Moscow and St. Petersburg. For 45 days before the departure of the passengers on the flight tickets are available. Advance purchase of tickets can save. Timetable and ticket prices can be found on the website http://elron.ee. Russians see the Russian version of the site. F / tickets can be purchased online and at the box office at the stations. The intercity train fares can be made on-site using the bank card.
Rolling Estonian railways wasrenovated in 2014. Today, passengers are seated in comfortable carriages with Wi-Fi. The most striking innovation is the Swiss commuter trains Stadler FLIRT.
Trains and rail / train tickets
Railway lines have a length of about1320 km. Of these, about 132 km are electrified. system provides continuous work of "Estonian Railways» ( «Eesti Raudtee»). This operator is considered to be one of the most efficient in Europe. Domestic trains ply only daytime. An exception is the international composition of the Tallinn - Moscow. Many w / e routes were canceled after privatization. Currently, trains are losing popularity buses. The network of bus lines densely covers the whole territory of Estonia. Trains run much less frequently than buses.
Centre rail link isBaltic Station in Tallinn. Around the city is actively shuttle trains. Regular local trains are available on the following routes: Tallinn - Aegviidu, Tallinn - Keila - Paldiski. To find out the schedule of international trains that travel between Tallinn and Moscow and Tallinn and St. Petersburg, it is recommended to visit the site of the Railways. There you can buy a train ticket. Moscow train passengers spend on the road 15 hours, St. Petersburg - about 7 hours. Ticket price is quite high, so in some cases, air travel is a win-win solution. The disadvantage of traveling by train Estonian - time-consuming.
Photo