Kitchen Estonia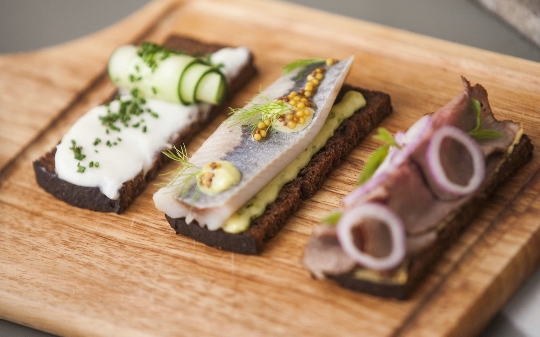 Kitchen Estonia - this is the kitchen, which was influenced by German and Swedish culinary traditions, but, nevertheless, it is quite a lot of simple and hearty, "peasant" dishes.
National cuisine of Estonia
Great importance is given to Estonian cuisinesoups: soups are cooked with peas, potatoes, dumplings, barley or pearl barley. In addition, in Estonia unusual dishes prepared in the form of beer, bread, blueberry soup and herring. Local specialties complement a small amount of spice, but as a rule, meat is seasoned with parsley and celery, cottage cheese - caraway seeds, fish - dill and black pudding - marjoram. Another popular addition to dishes - "kastmed", which is a milky, milky-creamy or dairy sour cream gravy.
Popular Estonian cuisine:
"Mulgikapsas" (a dish of braised pork with the addition of sauerkraut and barley);
"Kaalikapuder" (porridge made of turnips);
"Hernetatrapuder" (porridge made of buckwheat and peas);
"Suitsukala" (smoked trout);
"Kartuliporss" (baked dish of meat in the mashed potatoes).
Where to try the national cuisine?
In Estonian schools the power to order anyserved with a basket of freshly baked bread or muffins, and sometimes - and small snacks, all of which are generally not included in the bill. If you are planning to visit the Estonian restaurants with kids, then you will be pleasantly surprised - many of them have children's play areas and a special menu.
Because local institutions can not smoke cigarettes, the smokers should look for places with outdoor terraces.
In Tallinn visit "Eesti Soogituba" (fromtraditional Estonian dishes guests are treated to blood sausage, a variety of cereals, local kvass, Baltic herring) or "Leib Resto Ja Aed" (a hit of Estonian places the menu is homemade bread, the recipe is passed down from generation to generation), and in Tartu - "Kohvipaus" (here it is recommended to try a traditional Estonian dish kama, which is prepared from a mixture of toasted rye, peas, beans, barley, mixed with milk or yogurt - its complement, or honey or salt, which is why it becomes in a sweet dish or appetizer ).
Cooking classes in Estonia
Cooking Estonian cuisine wishing to offercooking classes at the restaurant "Olde Hansa" in Tallinn. In addition, there will demonstrate the process of cooking food under the name "Illusion" (it is made from a pike perch stuffed with minced shrimp and chicken).
Visiting Estonia is worth to podgadatRye holding the festival in honor of the warm bread (Sangaste parish, August) and good food festival (Parnu, June), during which you can get products that are not sold in supermarkets, as well as take part in the competition for the preparation of various dishes.
Photo