Skiing in Estonia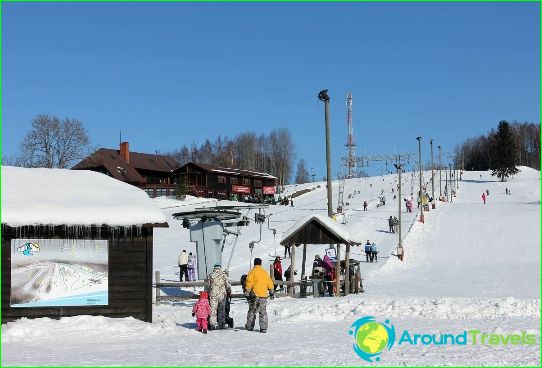 Leisurely Estonians do thoroughly: build houses, bake bread, work and, of course, rest. Among the favorite pastimes inhabitants of the Baltic countries - winter sports and ski resorts in Estonia are gaining in popularity not only its residents but also among foreign tourists.
The equipment and lines
The main ski resort is located in Estonianear the town of Otepää. It is located in the south of the country, and his name is translated from Estonian sounds like a "bear's head". At 14 kilometers from the city and spread route Kuutsemäe resort. Two decades residents of Estonia consider your ski resort the best, but because on the weekend or during the school holidays here can be very crowded.
Trails Kuutsemäe can not boast of speciallength or complexity, but fly down the slope with the wind here is quite possible. In total, the resort is equipped with seven runs, the length of each of which is less than half a kilometer. Trails in Kuutsemäe labeled according to the rules of ski equipment. There is a "green" track, which is most suitable for beginners and skiers average level of preparedness. For more advanced ski resort of Estonia has prepared the track Porikraavi, which go down - not an easy task. Do not forget to Kuutsemäe and pro snowboarders. Mountain Kuutsa become a great place to build a fan park in which somersaults and stunts practiced for five plus.
Ski resort offers Estonia itemequipment rental and lessons at school for beginners, conducted by experienced, including the Russian-speaking, instructors. On the children's slope can make the first steps and very young students, for whom a holiday in Kuutsemäe will present an unforgettable adventure.
Activities and excursions
Guest house in the ski resort of Estonia is readytake not less than 80 fans of winter sports. The entertainment is a little - a couple of restaurants and a hot bath. But guests can always go to the nearby town of Otepää and do there shopping, take a look at local attractions, or taste the dishes of the national cuisine. And all Estonia visitors to its ski area is quite accessible. The country can not boast a large footprint, but because the tour in Tallinn and Tartu will help to significantly diversify the cultural program for the guests.
Photos Estonia ski resorts