Water parks in Pärnu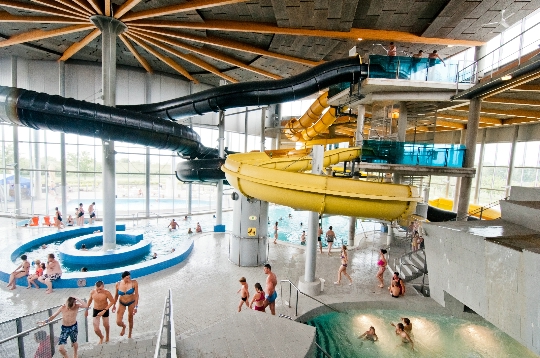 Holiday in Pärnu - this is not only the beautiful parks, sandy beaches and spa-centers, but also at the local water park pastime, which has something to please couples with children.
Waterpark in Pärnu
Waterpark "Tervise Paradiis" pleases visitors:
Outdoor swimming pool (even in the winter months, as the temperature it is maintained at a comfortable level for swimming) and indoor swimming pool;
artificial river and waterfalls;
jumps, jumping from platform to 4-meterheight, large (especially stands out slide "Black" with visual effects) and small slides (from the children's slides downhill stands, the final stage of which is not landing in the pool and secure trough);
wall for climbing;
steam bath, Finnish sauna, whirlpool baths;
terrace where you can enjoy the sunshine, sitting in a chaise lounge;
a gym and an aerobics room;
bar Aqua.
Entrance fee on weekdays: child ticket (from 6 years) - 13 euros an adult (15 years) - 17 euros a ticket "2 + 2" - 41 euros. The cost of visiting the weekend children's ticket - 15 Euro, adult - 19.5 euros a ticket "2 + 2" - 52 euros. As for the 4-6 year olds, then buy a ticket for adults will have up to 2 euros.
Water Activities in Pärnu
To pamper yourself every day waterprocedures before to go to Parnu, travelers can stay at the hotel, make available to the swimming pool - in "Hedon Spa & Hotel" or "Estonia Resort Hotel & SPA".
Proponents of beach holiday you should payfocus on a wide beach, which is framed by dunes and pine trees - here like wishing to pamper yourself sunbathing. Despite the fact that the water of the Baltic Sea is not warmer than + 23-25˚ C, swimming here is quite comfortable thanks to clean water, a gentle entry into the sea is warming up the sand, which can be a great place for children to play. Overall, the kids will be delighted by the children's corner in here with equipped sandboxes in the form of animals, rides and playground, while adults can take themselves beach volleyball or football, jet skiing, a walk on the "banana", and they will be able enjoy a beach holiday, sunbathing on the loungers and hiding away from direct sunlight under the umbrellas.
As a local attraction isPärnu River, the extreme tourists can raft on her canoe, and supporters of the calm water trips - to ride on the Parnu boat, admiring the scenery opening. And if you wish you can go for a walk under sail on Pärnu Bay on a yacht - a two-hour tour will cost about 145 euros.
A trip to Parnu podgadat makes sense to hold a beach festival Bacardi Feeling.
Photo