Water parks in Tartu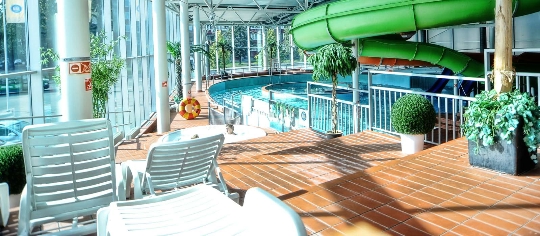 Do not think in your vacation without having to visit the water park? Be sure to visit the water park in Tartu - the place where love to entertain small and large residents and guests of the city.
Water Park in Tartu
Waterpark "Aura Keskus" pleases visitors:
large Olympic swimming pool with 6 lanes;
training pool, where classes are held in swimming for children (the smallest depth - 60 cm, and the biggest - 90 cm);
steep slides for adults (length - 38 and 55 m);
water cannon, caves with benches, whirlpool, waterfall, falling, through which are breaking seas;
children's area with a small waterfall, mini-slides, "paddling", swings, where children will be able to drive directly over the water;
wellness-center (spa-treatments, steam bath, Finnish sauna, aroma sauna, sanarium, hydrotherapy path, whirlpool baths) with fitness club, massage rooms and a solarium;
cafe (can be treated with hot meals, snacks, ice cream and various drinks).
Children will want to celebrate a special occasion here (do not miss this opportunity) - experienced animators gladly involve them in water games based on their age.
It should be noted that adult visitors canplay in the water park in basketball (in the pool are basketball hoops) and visit the aqua aerobics classes, and they will be offered to try light therapy: summer guests escorted to the open-air sun terrace, and in the cold time of the year - in a special indoor room.
Prices for tickets (weekdays, 15:00) - 7 euros / adult, 6 euros / child (5 years) and other benefit recipients. Ticket prices (after 15:00, weekends) - 8 euros / adult, € 7 / children. Entrance tickets to the wellness-center (the price includes the use of a towel) on weekdays before noon - 9 euros / adult, 7 EUR / children (under 9 years) in the afternoon and on weekends - 13 euro / adult, € 8 / children .
If you decide one day to visit the water park, andResearch Center "AHHAA" (+ planetarium museum, which often make presentations and shows, as well as interesting experiments in which the offer to take part youngest guests), then you will be given a 20 percent discount at "Aura Keskus".
Water Activities in Tartu
If you want to splash in the pool on a daily basis? As a placement makes sense to choose a hotel with a swimming pool, for example, "Hotel London" or "Riia Villa".
Beach lovers will be interested to know,that it is represented in Tartu narrow sandy strip on the Emajõgi river (accessible by good quality holiday beach equipment), around which the planted trees and lawn. It is worth noting, though, and the river is clean but quite deep (over 4 meters), and in the summer the water warms up to + 20-24˚ C. But they can go to the Lake Peipsi, where you can organize a picnic on the beach or indulge in water walks.
Photo