Where to eat in Narva?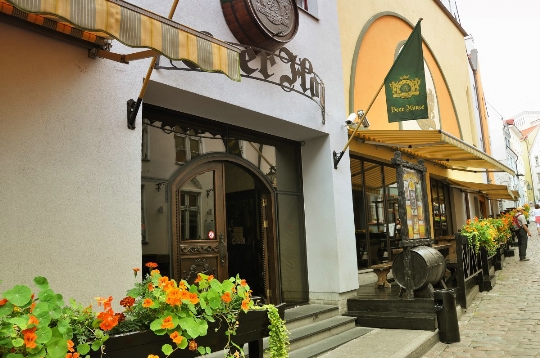 "Where to eat in Narva?"- A topical issue for travelers, coming to rest in the Estonian city. Guests - many eateries, cafes, bars and restaurants. In establishments with cuisine worth a try black pudding, stuffed eggs, liver pate, mulgikapsas (stew of pork, sauerkraut and barley), herring with sour cream, suitsukala (smoked trout), berry soup.
Where to eat cheaply in Narva?
To cheap snack in the cafe is worth a visitPappa Pizza (Peter's Square) or Pizza & Kebab (Pushkin street). Budget can eat at a Chinese restaurant and a fast food restaurant McDonalds. Relatively inexpensive to eat, visiting the restaurant Old Trafford: soup in the pot here costs 4 euros, pancakes - 3.2 euros, cakes - 2.5-4.5 euros.
Where to eat in Narva tasty?
Salvatore: in this restaurant you can enjoy smoked halibut with citrus salad, fried goose liver with a sauce of apple brandy, pancakes with smoked salmon and caviar, raw beef with parmesan, sole fillets, fried with basil and tomatoes. In addition, here you can order sandwiches, risotto and a variety of desserts. This restaurant will please coffee lovers - here serves not only of espresso and latte, but the Irish, Greek, French, Mexican coffee liqueur "Baileys" or Vana Tallinn. If desired, you can come here for the evening-tasting, during which you will be told about the history of wine making and about the rules of selection of wines, as well as offered to taste different varieties of wines.
King: This restaurant offers serves Estonian and international cuisine. On the menu you will find meat (ham, pork, tongue, filet of smoked chicken) and fish (halibut, lamprey, the Chilean toothfish, trout), assorted cheese soup with shrimp, skewers of pork, Sancho Panza (baked pork with eggplant), steak beef, hot raspberries with ice cream, Deluxe (chocolate cake with chocolate sauce). In addition, the restaurant will delight the presence of live music.
Castell: relaxing in the restaurant, you can admire the river Narva and Ivangorod fortress (it offers a colorful view). In this restaurant the menu (a children's menu, live music) is dominated by a diverse and delicious venison dishes.
Rondel: This restaurant located on the grounds of the castle, offers order meat dishes, preparing grilled sandwiches and salads.
Gastronomic tours of Narva
On the gastronomic tour of the Narva you walk around the city and visit the authentic establishments, where you will be treated with national dishes of Estonian cuisine.
If desired, you can visit the city duringthe Festival of the lamprey - you can visit the fish fair to buy fresh, pickled, dried fish, see how lamprey caught (for this should go to the pier), take part in competitions for children and adults, to see performances of creative groups.
On holiday in Narva you can see the Narva Castle and the bastions, as well as to try nutritious, tasty Estonian dishes of fish, meat, vegetables, bread.
Photo